5 tips to improve Baidu PPC advertising campaigns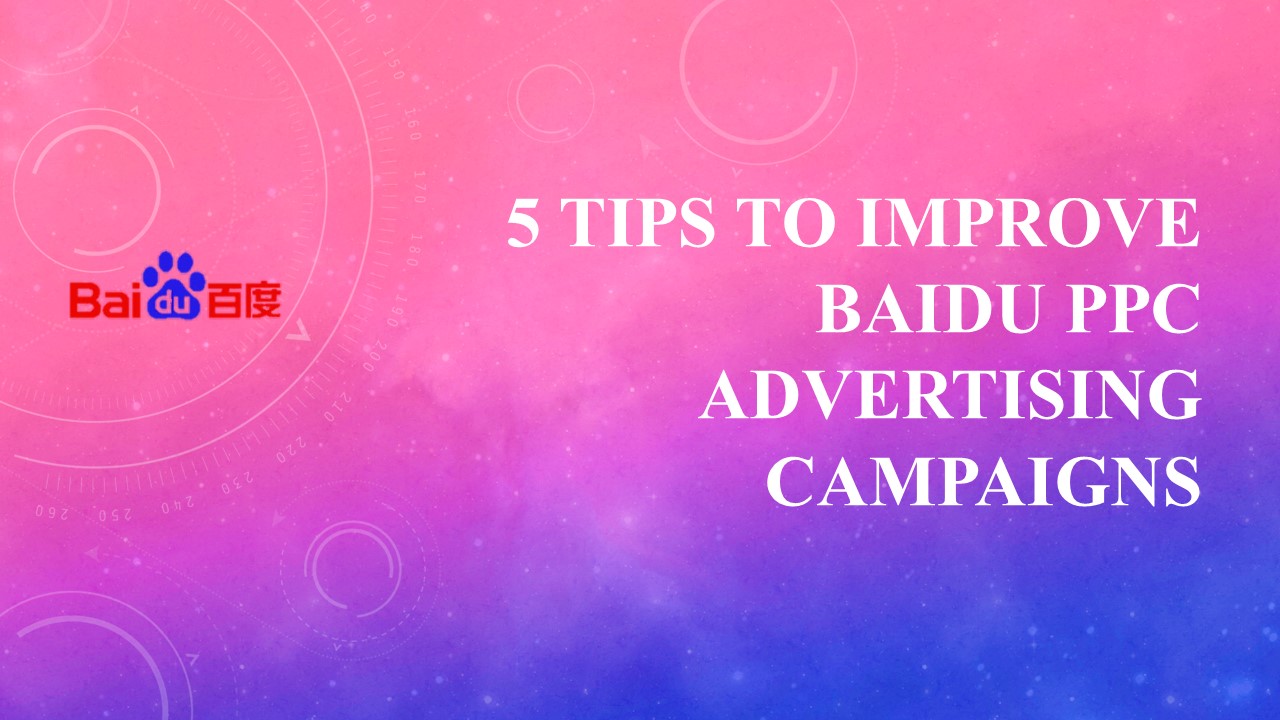 Baidu, being the largest search engine in China with over 195 million daily active users, has dominated the market with an immense amount of market share close to 76.05%.

Tempted to launch Baidu PPC advertising Campaign? It is vital to know which strategies work best for Baidu in order to ensure a successful Baidu campaign.

There are five Baidu PPC experts who help to share these top tips and search engine secrets. Let's take a look now.

Employ special offers to enhance click through rate (CTR)
Customers generally love sales. It is a norm to have special promotions, discounts and offers in China.

The founder of Levity Digital, Stuart Cooke is a big fan of using special promotions to engage users.

" Special offers are encouraged on Baidu. Whether you have a B2B or e-commerce brand, it's important to include special offers/sales/discounts in your ads. This tactic proves to be particularly successful in terms of increased click-through rates (CTR).

Be creative and enticing with your copy and be sure to include key offer words such as sale, limited time, and special. Ads that don't include these terms don't usually get the same attention or ROI in Baidu. You'll also get more characters to work with, too, which should help when creating your copy."

Here's some special offers ideas:
Free delivery
Discount offers (eg: 20% sales)
Free add ons
Buy one get one free promotions
Furthermore, it is great to launch promotions around seasonal events such as Singles Day and Chinese New Year. E- commerce sales increase exponentially at times like these in China. The same applies to the search traffic on related keywords like "discounts" or "offers".

Building campaigns as such boost the success rate. However, please make sure to start the seasonal campaigns early to leave sufficient time to test and optimize later on. By doing this, Baidu PPC users will be able to resolve any sorts of problems before it's too late.

Use a tiered budget and strategy
It is essential to tailor the marketing strategy to suit the targeted audience needs and wants in the marketing world. But how does it work in China?

A paid media executive at The Hut Group, Yujie Tang suggested to tailor the strategy and budget to differently tiered cities
" China is a huge market with a pronounced difference between tier 1 and tier 2,3,4, and 5 cities. For an international company looking to succeed in their first Baidu SEM campaign, I highly recommend implementing a tiered strategy and budget in line with this"

A higher cost per click (CPC) often can be elicited in the higher tiered cities and tend to have better conversion rate as the audiences there are more affluent and open to overseas brands that are new to them. However, it is not going to be the same in the lower tiered cities. It is recommended to go after the higher tier cities in the beginning especially with budget constraints.

Try geo-targeting to lower the CPC in Baidu PPC campaigns.

Geo- targeting doesn't just lower the CPC effectively but it provides an overview of the performance across different cities in China. In addition, it also gives insights on how to allocate and budget for other marketing channels.

For instance, if the analysis shows that a particular city is very receptive to your brand and marketing, you can take that as a "green" sign that investing in other forms of marketing strategy targeted at that area are likely to perform well.

From this angle, Baidu SEM is an awesome method to build a cross channel campaign that delivers great results in a long term manner, even beyond the search page.

Yujie has also tested and tried several ways to put this tailoring into action,

" Baidu has an ads product (行业定投) that allows Baidu PPC users to bid URLs instead of bidding on keywords. When the consumer searches for a term that triggers targeted URLs to show in organic results, our ads would also be showing.

So I have tested a campaign bidding on relevant URLs that have higher SEO rankings. With Baidu's big data leveraged to capture quality traffic (long-tail keywords) that we may possibly miss off, this campaign ended up bringing us a 500% ROI and lower COC than normal campaigns that bid on keywords."

This shows us how a tiered strategy when in combination with clever bidding techniques, can be a fast track to raise ROI and lay the foundations for future success.

Do not rely on Google translate
The founder at Search Jam Digital Marketing, Jamie Gemmell emphasised the importance of getting the translations right.
"Don't rely on Google translate to accurately translate ad copy into chinese! Always, always, always get a native speaker to check if it makes sense, and is not offensive to the target market."

Keywords are the core of the campaign, thus it is crucial to get them right. Apart from the above mentioned reasons, it is to ensure the success of the search engine marketing as well.

For example, if you are targeting "smartphones", use the wrong translation and you will end up bidding on the wrong terms and fail to capitalize on relevant traffic.

Inputting the wrong keywords is extremely damaging to the brand and its reputation in China. Baidu PPC users have to understand the chinese audience by showing care about their culture if the targeted audience is Chinese customers.

Users are going to struggle to win over the chinese market if they fail to do so, regardless of how great the product is.

Hence, start with the basics and get the language right. It will save you a whole lot of trouble down the line.

Optimize for smaller screens
It is a fact that over 872 million people in China accessed the internet via their mobile phones in 2019. It is also estimated to exceed one billion mark in two years in 2022.

That is why It is so important to optimize for the small screen since China is the biggest mobile market in the world.

Founder at Something Great Marketing, Justin Kerby is well versed in running mobile ads and has a great tip on running Baidu PPC advertising campaigns.
"When running a campaign on Baidu, it is important to optimise your ads and landing pages for small screens. Keywords should be identified and optimised for phones, as mobile search across China continues to trend upward.

It is recommended to work with a web developer to ensure the landing page experience on mobile is a top priority, especially if you are a business to customer brand. Moreover, always keep your goals in mind as clicks mean nothing without conversions.

Don't adapt to mobile first if it means to risk you falling behind Baidu. Only the savvy marketers know the power behind the small screens.

Do not aim for the top spot in a competitive space
Without a thorough keyword research for the chinese market, you could end up wasting the money on irrelevant searches.

Director of Digital Marketing at Paper True, Harshad Khanapure is a big believer in adapting your ad strategy to fit the chinese market.
" You shouldn't directly replicate your Google Ads strategy in Baidu, you need to tweak it for the chinese market.

In our market, for example, competition is very high on Baidu, and by targeting slightly lower positions, we've been able to reduce our CPA and achieve a far higher ROI, as a result.

This, again, is a great example of why keyword research is so important. Just because you can hit the top of Google doesn't mean you should try to do the same in Baidu. The markets are very different, and different industries will deliver different levels of success."

Harshad and his team recommend trying some of the following strategies to back up your research with the right content:
Provide free trials of your services
Include customer reviews on landing pages (reviews matter a whole lot more in China than they do elsewhere)
Mention you are an international brand with chinese support
Offer promo codes and discounts to customers