A Deep Dive into Metaverse Marketing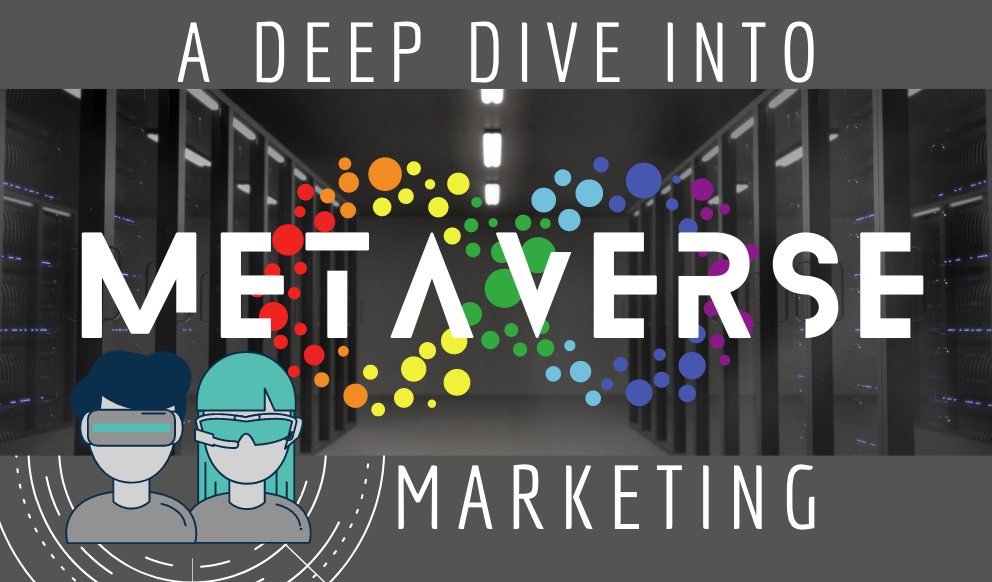 Technology has been developing and changing rapidly. We have seen innovations that were unimaginable before. One of these innovations includes the Metaverse—a unique, immersive virtual environment that is rapidly occupying the internet.
With the continuous rise of Virtual Reality (VR) and Augmented Reality (AR), metaverses are penetrating the internet. It is estimated that by 2021, approximately 85 million users will experience AR or VR at least once a month. Although Metaverse is not exactly what science fiction has described, it continues to generate unimaginable value as a new computing platform.
The top-tier media seems to be fully committed. Forbes even collaborated with Cathy Hackl, a well-known tech futurist and metaverse strategist. Not only that, there is also an existing fund called metaverse Investment Fund Metaverse ATF (NYSE: META). All of these indicate the importance of rising significance of metaverses.
Consumers seem to be catching up. The keywords "metaverse" produced 677,000 results on Google. At the same time, the #metaverse is widely used on Instagram, with more than 60,000 posts on the social media platform and more than 500 tweets per hour on Twitter.
Understanding the Metaverse
Today, Metaverse involves a shared virtual space where users are represented by virtual avatars. These virtual worlds continue to evolve and grow based on user decisions and interactions within the space. For this reason, it reflects the real world in that it has no "end." It's just a universe that continues to expand as more and more users join.
This is not just a simple virtual theme park, the design is centralized planning; it is not just a simple game for children. It is also not a simple application you can download off the app store and "play" at your convenience. Metaverses are virtual universes that merge reality and virtual world.Below are Matthew Ball has outlined the key characteristics of Metaverses.
Always active. Metaverses do not pause when you leave them, nor do they end. They just continue on indefinitely.
Exists in real time. The metaverse has a timeline that synchronizes with the real-world timing.
Players have individual agency. Players can be doing separate activities at the same time. One could just be standing still in the corner while others are interacting with each other.
Self-contained and fully functioning universe. The metaverse is a fully functioning universe that allows users to create, own, sell, and invest. Users can also be recognized and rewarded for the labor they put out in the metaverse.
Mix of different platforms. Different platforms can work together in the metaverse. For example, in the case of video games, you should be able to bring items from one game to another game.
User-generated content. Metaverses are more than just virtual spaces for users to hang out in. Users can create content that other users can also enjoy.
Marketing in the Metaverse
Digital marketers need to keep up with the latest technological developments. This includes understanding the Metaverse and its full potential. What marketers need to understand is that metaverse is not just a new thing; it seems like it is here and it is becoming the next big thing. With the expansion of this Metaverse, how can marketers adapt?
First, marketers need to keep in mind the value of millennials and Gen Z as their target markets. These generations are also avid users of certain forms of Metaverses, such as games like Roblox and technologies like VR. With this in mind, let's explore the market in Metaverse.
Parallel metaverse marketing within real-life marketing
Create marketing experiences that are related to real-world experiences, or parallel to what your brand has already done in real life. For example, the Anheuser-Busch InBev's beer brand Stella Artois worked with Zed Run in June to create a Tamagotchi-like experience crossed with the Kentucky Derby. They did this because Anheuser-Busch InBev's Stella Artois is keen to sponsor sports events, especially horse racing. Therefore, creating an online platform to trade, compete and raise non-fungible token (NFT) horses seems to be their natural entry point.
Immersive experience is key
You can provide virtual advertising in the Metaverse. For example, Bidstack, a video game ad tech company, transitioned from working off in real-world outdoor advertising to advertising on virtual billboards.
However, you can go beyond virtual billboards. Since Metaverse is experiential and immersive in nature, it is best to take advantage of this by providing the same immersive experience for your advertising and marketing plans. Provide brand installations and activities that users can interact with, instead of just placing simple ads.
We have seen pioneers provide their users with immersive experiences, such as the Lil Nas X concert in Roblox, Gucci Garden experience tours, and a virtual of the Washington Heights neighborhood as part of Warner Bros.' promoted In the Heights. The brand has recently discovered new sources of revenue through collaborations with the Roblox Metaverse and other Metaverses.
Make collectibles available
People like to collect things, and the Metaverse is another space for them to show their interest. You can provide the same experience in Metaverse by offering assets or limited edition items that they can only collect in the Metaverse.
For example, the Gucci Garden experience on Roblox provides room for collectors. It allows people to collect limited Gucci items in the Metaverse. Gucci collected 286,000,000 Robux from the game from their initial collection sale.
Engage with existing communities
Generally speaking, people are opposed to advertising. Therefore, when a brand tries to penetrate the Metaverse, it is important not to show up and annoy people who are already there. More importantly, you will need the active acceptance of these users because you will try to sell to them.
You might not just enter a new platform without considering the new format. In Roblox, brands work with members of the Roblox developer community to create items and experiences. Similarly, when O2 held a concert on Fortnite, they collaborated with creators who were already experts on the Fortnite platform.
Think of this as influencer campaigns. User-generated content is important, so community members become an integral part of the execution campaigns.
Continuously experiment
Although there are guiding principles that could inform what kind of strategies and tactics marketers can develop, Metaverse is still a brand new platform that provides a variety of room for experimentation. Best practices have not been properly established, and the paradigms have not yet been fully and comprehensively created. This provides enough room for marketers to try to remain unique and experimental in their approaches.
Other Unique Metaverse Examples
Dimension Studio made $6.5 million in revenues as a result of their experimentation with metaverses for fashion brands. They established a virtual production set-up that allows a user to step onto a platform, be scanned by 106 cameras, and dropped into virtual worlds to test out garments and other items. They are most known for their work on Balenciaga's Afterworld game for Autumn/Winter 2021.
Grand Theft Auto V, an open-world sandbox game, released clothing options that were similar to what the protesters in Hong Kong wore. Hong Kong protesters were able to take their battle in the real world into the metaverse, joining many artists who have been repurposing virtual worlds for political expression.
Home decor company Houzz allows consumers to create digital photo collections of their furniture and home items. Houzz earns each time someone purchases items through their service. In 2017, they added a 3D viewer that lets users view items in 3D directly through a camera and visually incorporates them into the user's physical space.
Google Maps demoed an AR feature of their walking directions feature. This feature offers exact visual instructions and arrows that would make it easier for users to find their way to their destinations. The user simply needs to point their camera towards the direction with which they need instructions, and the AR feature will point them in the correct direction.
The Future Is in Metaverses
Now, many companies are investing in metaverses. They bet on it, not only for entertainment purposes, but for commercial and professional purposes.
Facebook, the largest social media platform, sees itself as a future Metaverse company. Mark Zuckerberg focused on building social Metaverses and investing in Oculus, Facebook's AR and VR technologies. In August 2021, Mark Zuckerberg launched a work Metaverse for Oculus, allowing people to work together, sit in a conference room, and interact as they are in an office. This is perfect timing, because more and more offices have turned to work-from-home arrangements.
In general, Silicon Valley is more busy than Facebook betting on Metaverses as the next generation of internet. There are still many games that have added Metaverse elements on their platforms.
HTC is moving towards VR technology based on business rather than consumers. This shows that VR technology is gradually becoming more than just for entertainment.
Challenges in the Metaverse
Metaverse brings an exciting future to the brands, but there are still some challenges to overcome along the way.
Although Metaverses are becoming more and more popular, they can still use more attractiveness. Because of the technical requirements of Metaverses, accessibility is an issue with it. Not everyone can use the equipment needed to enjoy the Meraverses world, such as higher-end computers and VR lenses. This greatly limits the brand's potential market and hinders mass marketing efforts.
Brands also need to be careful when navigating Metaverses. Seamless integration is essential to avoid alienating players from the brand. Since this technology is new, brands may still be unable to find a suitable place in the Metaverse and may appear too blunt in their messaging. Plan your placements well and make sure it feels natural and perfectly integrated in the Metaverse.
Data privacy and security are still a challenge in the Metaverse. With the emergence of new technologies, more advanced security measures are required. This requires the establishment of new data privacy and protection, such as, personal verification may require users to provide more data, thereby increasing data privacy risks.
Lastly, because Metaverses is free for everyone, brands need to be careful to protect their image. The more user control over metaverse, the more likely your brand will appear next to suspicious content. There is also the risk of getting your placements being sabotaged or disrespected by users. This is important to be seamless, careful, and precise in your marketing strategy so that users can feel good when they share a virtual space with you and interact with you.
Conclusion, Metaverses provide a promising future for computing and the internet. And they provide enough room for innovation for marketers and advertisers. Despite these challenges, the opportunities to experiment, provide experience, and achieve innovative victories.
Resource from : https://influencermarketinghub.com/metaverse-marketing/