Baidu PPC vs. Google Adwords : Key differences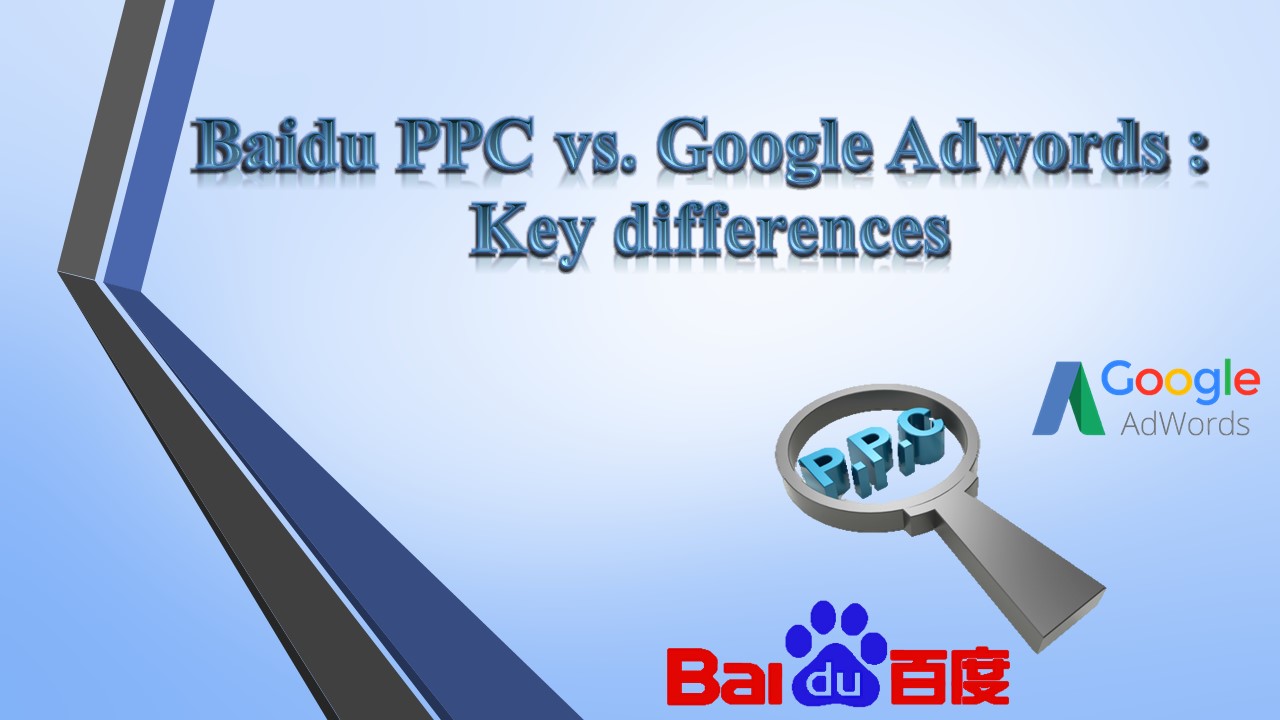 Many digital marketers may find Baidu pay per click (PPC) is easier to operate, especially when they are familiar with search engine advertising on Google Adwords. These two different types of digital marketing methods share many resemblances which include display ads, text, cost per click (CPC), account architecture and price system. 

However, it is important to understand the distinctions between the two in order to grab the nuances of Baidu PPC better. This article will outline the differences ranging from account to management and optimization. Now, let's get started!

Paid advertising products
Google Adwords allows subscribers to access a wide range of paid advertising products such as display, search, text, video, shopping and app ads. However, Baidu provides a broader range of products which even includes unique product offerings such as information feed ads, Brand Zone and Baidu Knowledge.

2. Information feed ads
This feature was launched by Baidu in 2016. It is a mix of organic content and is displayed in content driven Baidu products like Baidu Forum, Baidu News and more.

3. Brand Zone
It is a space to introduce and exhibit a company's brand. The space will include links to the company's website, news, signature products and promotion details. This type of advertisement usually ranks at the top position on search engine results pages (SERP) and pushes the competing ads down effectively.

For instance, when consumers search for keywords like "NIKE", they are able to gain essential information regarding the brand within a second. Look at the image attached below.

However, this feature is going to cost the digital marketers a flat rate of $1,500 Yuan per month. Digital marketers can get the exact quote from the relevant Baidu reseller.

4. Baidu knowledge

This feature started off as a question and answer section of the site. Slowly, Baidu has offered advertising options in the section since 2015.

The search results of Baidu knowledge will appear at the top of the search page when consumers search on Baidu as this platform has gained it's popularity among the users as it is more trustworthy compared to other regular ads.
5. Account creation

It is way easier and faster to create a Google Adwords account. All you need is a valid gmail account and credit card. In contrast, it is much more complex and time consuming in setting up a Baidu PPC account, the average time needed for the whole process is roughly one to two months.

Generally, it is needed to find an appropriate Baidu reseller, then submit all the required legal documents for verification, prove ownership and make a down payment to set up a Baidu PPC account. For more details, it was covered in the previous article (hyperlink it with the article here https://viceclicks.com/how-to-register-for-a-baidu-ppc-account/ ).
6. Fees and payment

For Google Adwords, it is complimentary when users sign up for an account and users can choose to run ads based on credits. It also provides monthly invoicing for businesses with substantial paid search budgets.

It is free to set up a Baidu PPC account, but marketers need to make a minimum of $6000 Yuan as down payment in order to start running ads. Sometimes, Baidu dealers may charge users an annual service fee.

It is noted the major difference in the payment method is that Baidu requires its users to pre-pay the advertising fee. Hence, digital marketers need to plan their monthly budget and make sure to transfer money into the Baidu account before running out of the remaining advertising budget. For foreign companies, it will usually take 7-10 working days to complete a wire transfer to China.

In addition, Baidu recommended subscribed companies to pay $600 Yuan as yearly verification fee. It will ensure the business's legitimacy and give assurance to the consumers the paid ad listings are all genuine.

The business's ads that have been through the verification process in Baidu are shown with an icon "V" on page search. Consumers are able to see the company's score in terms of reputation, website security and transaction security by hovering their mouse over the icon.

7. Accessing the account

Digital marketers are able to access their own Google Adwords account within seconds through an authorized Google account.

Things are not as easy with Baidu PPC. Baidu requires users to provide a valid china's phone number for security reasons when setting up the account, hence the phone number is tied to the relevant Baidu PPC account. Every time when the user's location, devices or IP address changes, Baidu will ask users to key in the verification code received under the same chinese phone number. Hence, it may require coordination between the company's personnel when the account holder is not in China. It can be time consuming when the account holders are in different time zones and locations.

8. Targeting locations

Baidu PPC primarily targets only the chinese speaking areas such as China,Hong Kong, Macau and Taiwan. On the other hand, Google Adwords is a global company which allows users to target different locations.

9. Budget

For Google Adwords, a daily budget can only be set within the campaign level. However, users are able to set the daily budget both at the account and campaign levels. This allows users to have more flexibility.

For example, at the start of ad campaigns, marketers may not know which campaign will perform best. With a firm daily budget in place, there is an opportunity to set a slightly higher budget than planned for each campaign, and then see which ones perform well and make adjustments accordingly. This feature eliminates the worry about spending more than the daily budget.

Baidu provides another optional tool for its users which is called Yusuan Lei Ji Bao (budget accumulation tool). It will automatically reallocate the daily budget that was not spent to other days with higher search traffic.

For example, if a budget is set at $100 per day but only spends $70 on a particular day, the remaining $30 will go to the other days that generate more traffic volume. This tool can help balance the peak and down times of searching on Baidu, and makes the work of account pacing much easier.

10. Delivery method

Google Adwords allows users to choose the mode to deliver their ads. There are two modes offered by Google which are the standard and accelerated mode. Most of the digital marketers prefer standard mode to make sure the advertisement budget was spent evenly over time.

There is no such option for Baidu PPC users. The system delivers ads in accelerated mode by default. Users may find their budget runs out earlier.

In conclusion, Baidu PPC delivers the same outcome as Google Adwords which is to drive traffic in order to generate conversion. However, they are different in terms of user experiences and operation. Hope this article helps to clear your doubts and gives you an insight on which suits you better!