Content Marketers Guide to Live Video Streaming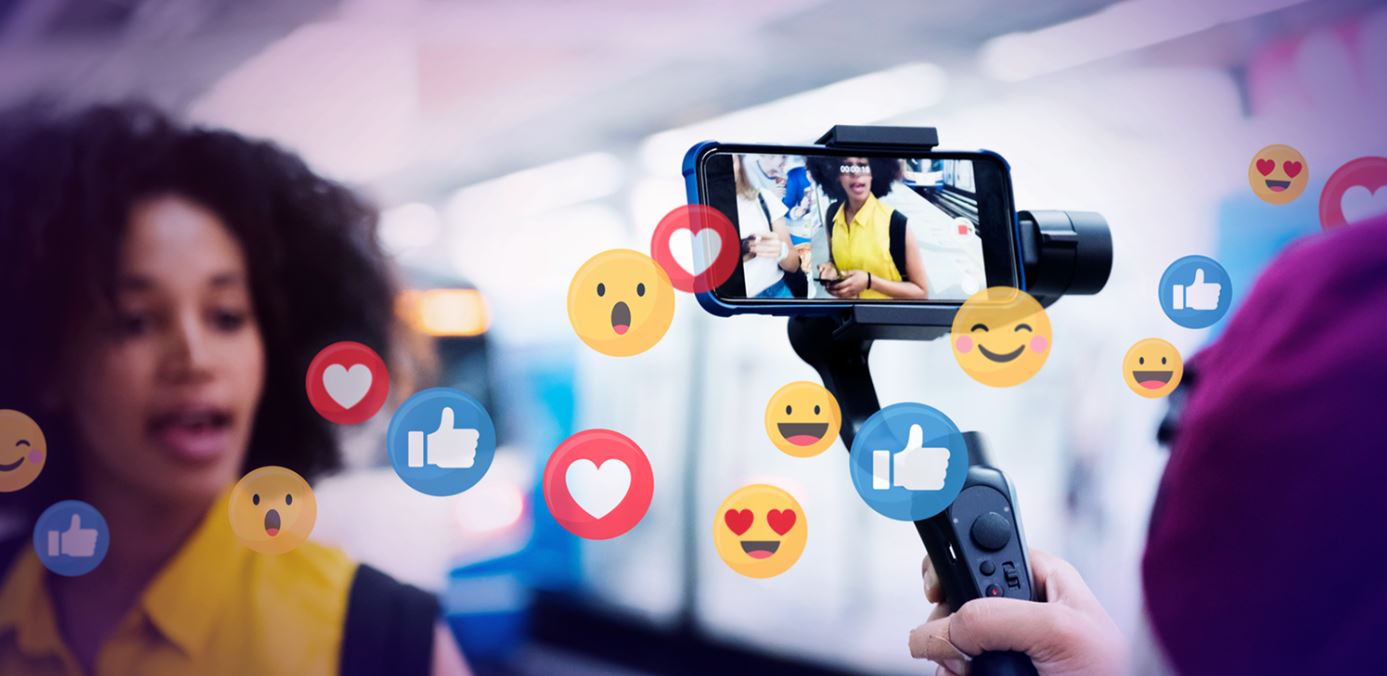 If live streaming is not part of your brand's content marketing strategy, you will lose one of the most powerful ways to interact with and interact with your audience.
Every day, content bombards the audience. Although you may already be using standard video content, real-time video offers you the opportunity to attract customer attention and keep them engaged. Now it's time to incorporate your marketing plan.
The Growth of Live Video Streaming
Live streaming started to garner popularity when Facebook Live was introduced in 2016, and other platforms followed with introducing live video platforms. In addition to the evolution of live social media platforms, the growth of live video is driven by the increasing use of mobile devices. These statistics tell the story of live video's value:
Video has proven to be a high-impact, cost-effective method for delivering content for B2C and B2B. Audiences prefer visual media, especially video, because it is more attractive and entertaining than written content. Although basic video is still a powerful marketing tool, live video has proven to be a successful extension of video marketing.
Since the launch of Facebook Live in 2016, real-time streaming began to be popular, and then other platforms have introduced real-time video platforms. In addition to the development of real-time social media platforms, the growth of real-time video has also been driven by increased usage of mobile devices. These statistics tell the value of live video:
1. Cisco – Video is projected to make up as much as 82% of all Internet traffic by 2020, a growing share of which will be live video content.
2. Market Global Forecast – Global live video streaming market is expected to grow from $3.25 Billion in 2017 to $7.5 Billion by 2022
3. Over 360 million users watch Facebook Live regularly; 200 million users watch Instagram Live
4. On Facebook, live video attracts three times as many views as previously-recorded content and 10 times as many comments
5. Livestream – 80 percent of people prefer watching a live video than reading a blog post; 82 percent prefer live video to reading a social media post.
6. 98.4% companies indicated live video was part of their 2018 marketing strategy and 25% stated live content will be a top priority.
Benefits of Live Video
Live video will bring many benefits, you will want to use these benefits to help the company grow.
Let's take a look at some of the advantages that live video can give you.
Deeper Interaction and Engagement with Customers
Live streaming is related to building audience engagement, which leads to deeper and true connections, which leads to trust. Real-time video establishes a real-time connection and promotes a dialogue between you and the audience.
Your customers become part of the content by immediately commenting on what they are watching and getting feedback. The ability to chat with customers in real time makes them feel that their voice is being heard.
You will not be able to establish this relationship with your audience through any other content.
Build a Community
Live streaming is often used because it helps create communities. Viewers can communicate with each other during the live broadcast and build a sensory community among customers.
When a customer establishes a connection through the community, the customer experience will be improved and the customer is more likely to promote your product.
The community must develop naturally, and real-time live broadcasts can help establish connections.
Demonstrate Authenticity and Transparency
Live video allows you to show the true personality of the company and show humanized faces to customers. Live videos that do not require on-site training are real, relevant, and trustworthy, indicating that your company values ​​transparency. By giving your audience a personalized company function, you can tell your brand story more effectively.
Sometimes, customers may be skeptical of the company's marketing efforts, thinking that the brand has not kept up with their trends. Because you can't edit or modify real-time videos, you can let customers know what's going on behind the scenes and how your company works.
The appeal of real-time video is its authenticity, so please do not make any preparations for broadcasting. Set the basic structure of the program, but try not to be scripted or rigid.
Realize Costs Savings
Live video is not intended to be overproduced or staged, which means minimal cost and effort.
You can create live streaming media without much effort, and still bring excellent results.
All you need for a live broadcast is a reliable Internet connection and a smartphone camera, which can be shot in high-definition quality.
Reach a Wider Audience
The Internet is a huge place. Live events can access audiences who would not have participated in your event.
Word of mouth on social media channels will arouse interest, and these people usually do not reach them through written content.
Extend Life of Content
Live streaming provides a large amount of content that can be repurposed and incorporated into your content marketing plan.
You can repurpose your livestream to create infographics, SlideShare presentations, white papers or podcasts. Translating your livestream into other forms allows you to interact with different audience members who prefer to consume content in various ways.
It also gives you the opportunity to share information through different media that cannot use live streaming.
Getting Started
Now that you know how real-time video can help your company, let's take a look at the steps you need to take to start operations.
Know Your Audience
Since live video is available on most platforms, people of all ages are watching the live steams. Use your market research to determine what streams your target audience likes and how they interact with them.
Are they just watching it in the background, or are they actively commenting?
What style of live streams do they prefer?
Knowing what they like will help you determine your way forward.
Set Your Goals
Don't just stream live.
Before trying live streaming, consider how live streaming can benefit your brand and suit your business and marketing plan.
Viewing live streaming on a larger scale can help you determine whether live streaming is meaningful to your company.
Once you decide to live stream, you need to decide what the purpose of the live streams and what you want to achieve.
Which audience do you want to attract? Do you want to increase the audience? What action do you want the audience to take? How will you ensure that the audience takes action?
If you make a commitment to live stream, please be consistent and publish regularly. Just doing one live stream will not help you engage and connect with your audience.
Choose Your Content
The first reason people watch live video is the quality of the content, so ensuring that you provide value to your audience is critical.
You also need to decide what type of content to create and how best to distribute it to your target audience.
Do not use standard sales promotions and messages in live video. Make sure that the unique content you provide can provide value to your audience and effectively expand your brand. For example, if you can provide expert advice or a tutorial that no one else can find, they will come over and watch it.
Determine Your Format
Your purpose will determine the type of live session you have. By defining the type of broadcast for your audience, you can get a good idea of ​​their expectations and make them more likely to get the most value from the live broadcast.
Some of the most popular livevideo formats are:
• Question-and-answer sessions with CEO, employees, product developers
• Interviews with influencers
• How-to instructional videos
• Behind-the-scenes peeks
• Product or service launches
• Product demonstrations
• Case Study with a customer
• Breaking news such as product announcements, new management introduction
• Live events such as annual meetings, board meetings, user meetings, etc.
Select a Platform
After understanding the content and format, you need to determine which platform is meaningful to your audience.
Facebook Live and YouTube are the largest platforms, but Twitter, Snapchat and Instagram also offer live platforms. Twitch is a niche channel dedicated to sports and games, attracting a young audience.
Each platform has its advantages and disadvantages, but you should choose the platform that your target audience uses most often. You can also broadcast on multiple platforms.
Schedule and Promote Your Live Stream
Figure out an optimum day and time for going live. Depending on your brand influence, you may have to consider time zones, typical work schedules, and other factors, which may prevent your audience from participating.
Creating great content will not affect anyone. Publicity is the key to attracting more viewers to watch the live streams. You want as many customers and potential customers to know when you go online, on what platform, and what they expect to see. Please start promoting the live stream about two weeks in advance.
Some ideas for establishing expectations for your live streams include:
1. Write a catchy description to capture attention
2. Post teaser videos
3. Send an email blast
4. Leverage your social media followers across all platforms
5. Provide signup forms for alerts or reminders of the live broadcasts
6. Create a memorable hashtag for the broadcast
7. Publish blog posts relating to the broadcast's topics
8. Offer a discount code or free product sample as an incentive
Once Your Broadcast is Finished
After the broadcast, your promotion will not be completed. Even after the live broadcast ends, the saved content can add value. Make sure that your live stream continues to be followed after the live broadcast. A strong follow-up may inspire more passive followers to watch the live broadcast next time.
• Keep it viewable: Post the video to your blog, social media pages and website
• Clip your live video content into the most interesting and salient topics
• Create a post-event page to add video clips from the broadcast with functionality to capture the interest of new visitors
• Recap your event with a blog post summarizing the highlights
Also, be sure to evaluate the ROI of live video. If live streaming does not have a positive impact on your business, it is not worth the effort. Use the data you collect to understand what you can do and what you can improve.
Measure Engagement
To analyze the video coverage audit indicators, including:
• Total views
• Unique views
• Peak simultaneous audience
• Actions taken (likes, shares, and comments)
• Viewer demographics
• Average time spent viewing
• 10-second views
• Completion rate
These metrics may not directly provide evidence of how live video affects ROI, but it will show you the overall appeal of the brand to the audience.
Tracking the viewer's behavior after leaving the live broadcast can provide concrete evidence of the impact of the broadcast on your return on investment.
Use unique URLs published during the streams to view site visits to see how many viewers visit your site, and encourage your viewers to sign up for your mailing list so you can track conversions.
If you are using live video to sell a product, you can determine the direct impact on sales. Use promoted links to track the purchase of products directly after viewing the video, and offer an exclusive discount code for viewers and track its use in online purchases
Summary
Live streaming is one of the fastest growing industries because it can help you attract a larger audience with a relatively low investment.
The live broadcast not only provides an exciting way to showcase your company's products, services and capabilities, but also enables you to establish a real connection with the audience in real time.
Live streams can create numerous opportunities for your business in terms of reaching new potential and attracting existing customers.