Quick tips about Xiaohongshu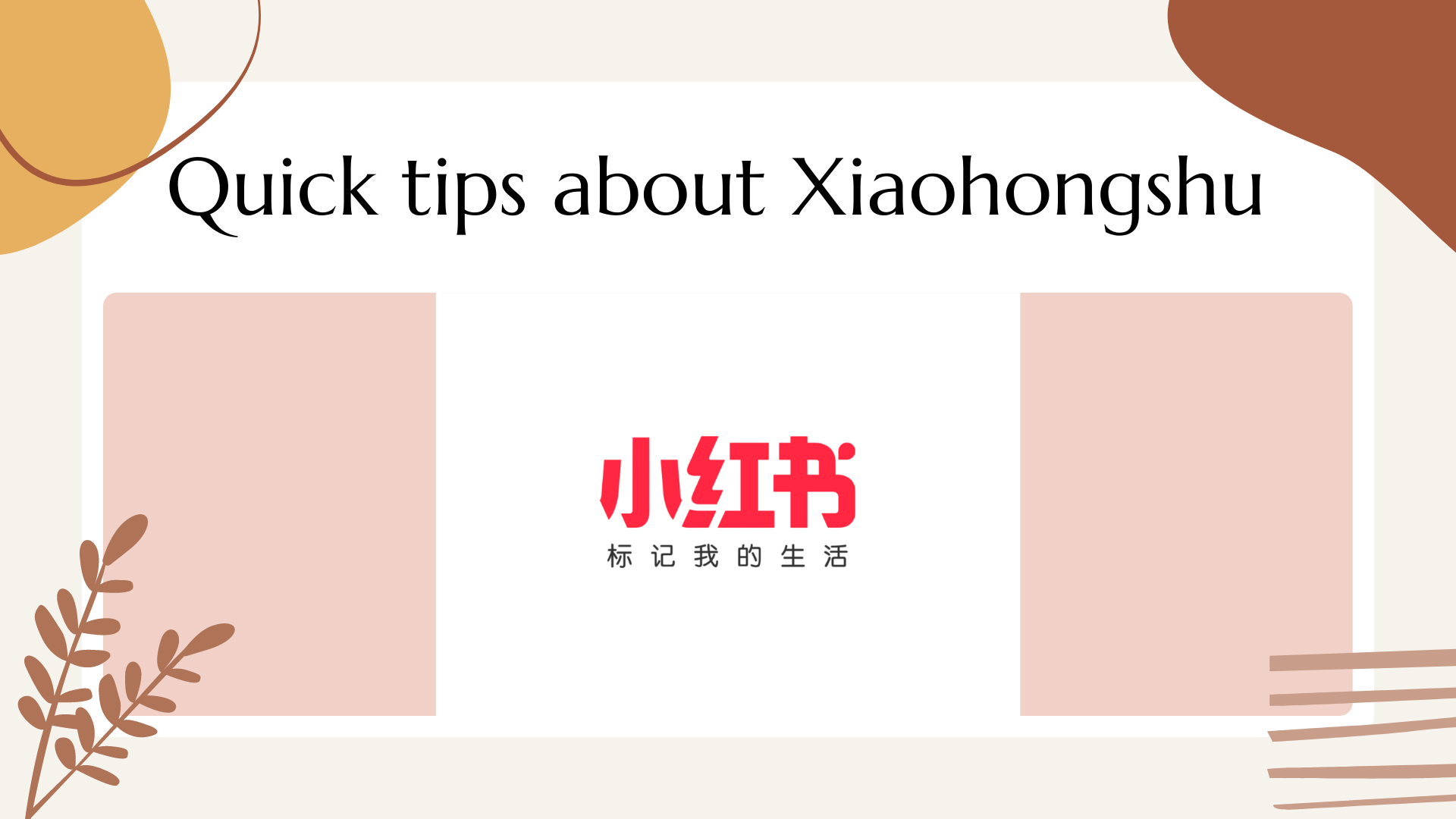 What is Xiaohongshu?
Xiaohongshu, as a "safe space" to encourage a variety of consumers to write reviews and share their shopping experiences.
Xiaohongshu application contains an "Explore" section enabling users to explore content on topics such as fashion, food and travel. The most popular category on the application remains beauty & cosmetics. It is often used when a user exploring a new cosmetic product they would like to try, when users are curious about the experience of other customers.
It is also a "Nearby" section that users can use while travelling. While on business trip to Hong Kong, Xiaohongshu would point me to food, experiences or shopping opportunities around me. When reading a post, users usually add "hyperlinks" to the page of the brand which can contain an e-commerce section.
Xiaohongshu change from a social platform to an e-commerce platform
Xiaohongshu started out as a drafting tool for chinese users to make fashion and beauty shopping lists before going abroad, with an interface similar to Pinterest. It is just a content sharing platform chinese users to discover and share shopping experiences.
Xiaohongshu has accumulated a huge amount of social and consumption data from a urban female user group, and has since formed a closed shopping cycle for cross-border sales of luxury goods.
Instead of opting for a marketplace model like most chinese e-commerce sites, Xiaohongshu maintains partnerships with foreign brands to keep their own inventory for added quality assurance, shipping directly to users from their warehouse.
Xiaohongshu is probably the best platform for shoppers to reach out a large group of like-minded people who are mostly like to interact with their posts (known in the app as Shopping Notes). On Xiaohongshu, Shopping Notes are written by and shared with a relevant post that also enjoys and is eager to get informed about shopping and lifestyle.
How is Xiaohongshu?
Xiaohongshu is one of the largest and fastest growing social e-commerce apps in China. The women-focused shopping platform, co-founded in 2013 by Charlwin Mao and Miranda Qu. Xiaohongshu is now:
Valued at USD 3 billion in its Series D round June 2018
Supported by the most prestigious investors including Alibaba, Tencent, Genesis Capital, ZhenFund and GGV Capital
Over 100 million registered users
30 million monthly active users, a 40% increase in end of 2017
Xiaohongshu was ranked as the #1 App in the cross-border e-commerce App category with 15.4 million MAUs during Black Friday 2017 according to Analysys. The #2 App Kaola only had 5.3 million MAUs during the same period.
According to a different source, iiMedia, Xiaohongshu makes up for 5.6% of the total cross-border e-commerce market. Notice it's one of the only platforms that's gaining more market share in Q1 2018.
Xiaohongshu's user demographics
Most of Xiaohongshu users are post-90s urban females who value quality, with relatively high consuming power, and premium taste. It's one of the fastest growing e-commerce platform.
According to Qianfan, Xiaohongshu has a predominantly female audience (88%). It also has a rather young population: more than 60% of its users are 30 years old or younger.
57% of the users live in top-tier cities, the traditional centers of wealth. In fact, a closer look at their spending behavior reveals a large proportion of the users have relatively high consuming power.
This makes the platform the ideal channel to target young, affluent female shoppers that have the intent and ability to consume branded products.
User content that informs purchase decisions
High-quality shoppers demand high-quality pre-purchase information. Driven by candid product reviews (aka Shopping Notes), authenticity is at the core of Xiaohongshu's user posts.
It is like an illustrated textbook that teaches you to shop (covering such topics as which up-and-coming brands you need to know, how to spot fakes and the best time of the year to shop for the best deals etc.)
Users can make purchases through a shopping note, ensuring a smooth and efficient shopping process that takes place entirely within the platform.
To maintain quality and effective communication, Xiaohongshu's recommendation algorithm encourages users to interact with topics of interest to them. Profanity, explicit self-advertisement and verbal abuse are all effectively censored.
It is worth when users forward or sharing features on Xiaohongshu. It allows to like, comment on, and add Shopping Notes to their own collection. This in a way prevents users from getting spammed, and to let Xiaohongshu organically push to users the content they believe will be most relevant and useful to them.
Celebrities' favorite sharing platform
Xiaohongshu is one of celebrities' favorite social media platforms in China, and there are plenty of stars sharing their latest shopping picks and lifestyle hacks there every day, mixing snaps of their not-so-glamorous side of life.
Consumers feel like they share an intimate bond with celebrities through their personal, light-hearted Shopping Notes. This has created a unique UGC (user-generated content) circle made up of well-known influencers with massive followers.
Marketing on Xiaohongshu
Products that are listed on its e-commerce platform, Xiaohongshu has different sales campaigns to generate sales, stores and brands can sign up. It also runs a 4-hour count down sales events 3 times per day platform-wide. These discount events are focused on cosmetic product, health product, food, household items, formula. It also runs a "Stylish girl" event which hosts cosmetic product only.
Smaller brands can benefit from Xiaohongshu's growing network of celebrity users to drive brand recognition through KOL campaigns. A simple way to begin partnerships is to send products to influencers that are within the brand's niche, and have them authentically post their thoughts.
Xiaohongshu is a good investment platform, but not only as a sales platform: as an information platform. China Luxury customers do exhaustive research before purchase. They have the largest number of touch points before making a purchase decision, and especially if you're in the beauty space, Xiaohongshu will be one of them.
Even niche cosmetics brands can have thousands of mentions on Xiaohongshu, and customers who see your products on Xiaohongshu might very well end up buying it on Tmall or WeChat a few hours or days later.
In short: Xiaohongshu is worth it. But with its huge engagement rates and significant organic traffic, you should see it as a marketing channel rather than as a sales platform.