Top 10 digital advertising platforms for promoting …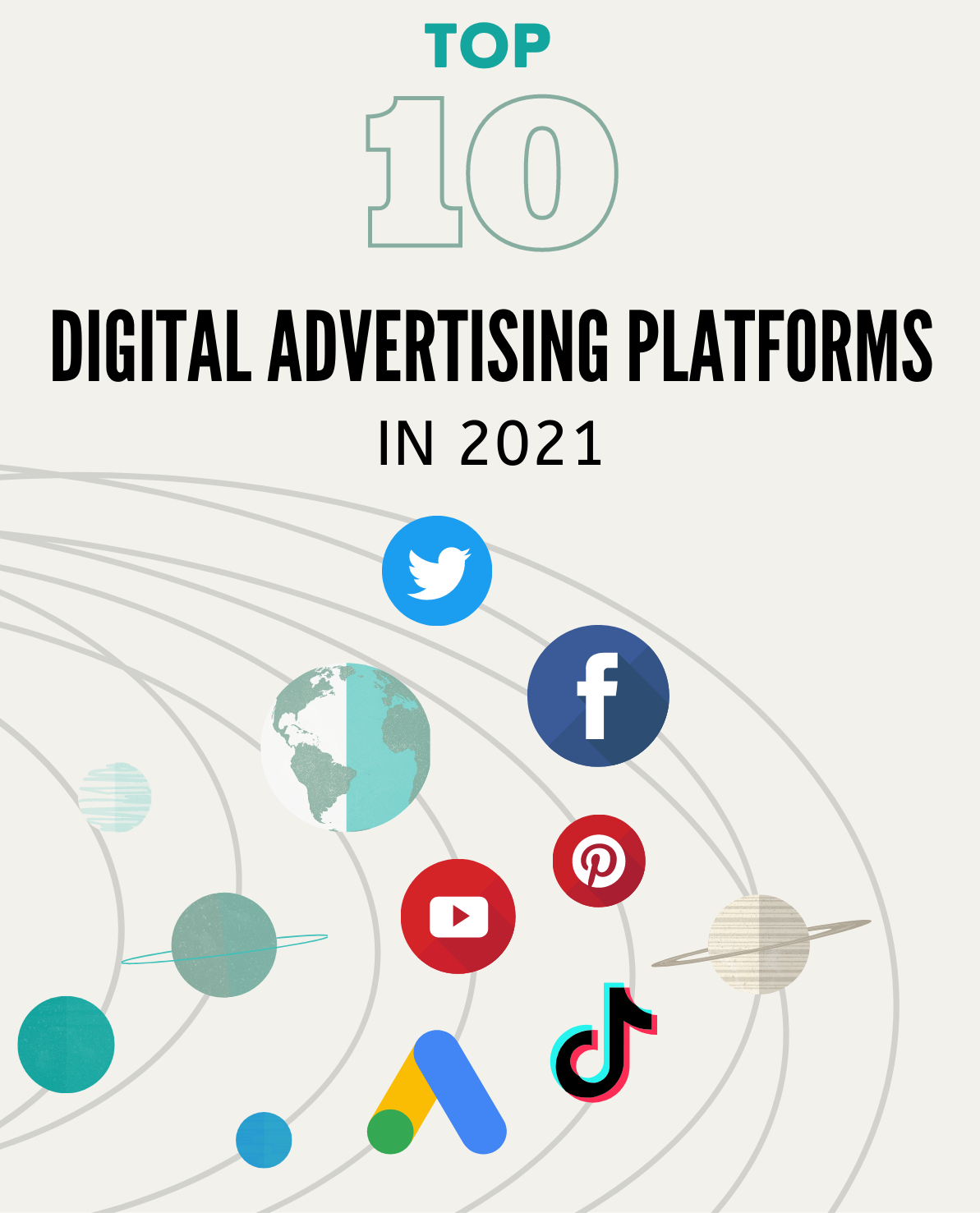 1. Google Ads
Founded in 1998, Google has risen to become the search engine used by more than 70% of online users. People can now search for everything they want, such as products, tips, videos, shops and addresses around their homes, etc. in seconds.
Also known as Google AdWords, Google Ads is the most popular pay-per-click advertising platform. Other search engines also use this technique for their advertising platforms. But because Google is so popular with customers, users immediately think of Google Ads when it comes to paid advertising. Google displays results close to the query, but it also produces results based on your location.
Pros:
Immediately reach potential customers.
40% of customers will click on the first 4 results.
You can create advertising campaigns quickly.
Only when customers click on your ad, you have to pay Google.
Google Adwords allows you to track all activities related to your ads.
Google campaign management tool is very powerful and convenient.
Cons:
Fierce competition: Many businesses are doing the same industry, but only 4 results in the first position (this time will be the price competition).
Pay-per-click is increasing.
Must have a website to run ads: the website is usually the first channel that customers reach after the ad clicks.
Not effective with new types of products and services.
2. Facebook Ads
Facebook has changed customers' behavior and created a strong people-connecting platform, where we can speak out about our personal perspectives, experiences, and interactions, connecting with topics that we like.
Why is Facebook Ads so popular among advertisers and business owners? Owning a huge amount of user data, it is not surprising that it accounted for 25% of the world's total online advertising budget last year.
Facebook collects more data than we can ever imagine. Pages you like, topics you interact with, friends, birthdays, current location, past vacation, etc. This data bank helps Facebook create values for advertisers to more efficiently target users than ever before.
Pros:
Target the right customers.
Help you skyrocket sales revenue in a short period of time.
Cost savings.
You only pay for 100% real customers wishing to use when customers click on Facebook ads.
Diverse forms of advertising
Control over costs.
Advertising displays fast.
Cons:
Ads only show on Facebook pages, so the Facebook Ads ad network is second only to Google Ads (Ads can show on websites that are partners of the Google network).
Conversion rates may be low.
The continuous display of ads on the wall of Facebook users makes them feel dissatisfied and annoying.
Many customers believe that these ads are spam ads, causing boring for users.
3. Twitter Ads
Twitter only allows users to upload photos, write and read the content of limited length (up to 140 characters).n Although Twitter also offers users many customer positioning features, including shopping habits, languages, preferences, etc. However, the price of advertising on Twitter is much higher than Facebook's. However, sometimes spending more will yield better results. Because the interaction rate of ads on Twitter is quite high, up to 1-3%, compared to the average CTR rate of Facebook is only 0.191%.
Twitter ads can help you get your message across to your product and brand's most potential users. Twitter's data shows that advertising pledges have increased by 69% over last year, with costs down by 28% per ad participation. The ad formats on Twitter are extremely simple, and this is a great time to consider running your first Twitter ad.
Pros:
Activate customers who are following you to close sales.
Brand promotion.
The investment cost to reach the target market or potential customers is small or insignificant, and customers or audiences voluntarily want your information and track your activities.
The ability to spread information very quickly and strongly.
Cons:
Updating and managing accounts on social networks take a lot of time and effort.
Marketing people must present information in a new and appealing way to viewers or lose the people who are watching them and loyal customers.
The implementation of advertising on social media channels carries many risks, such as anti-fans' negative actions, scandals quickly spread, and etc.
4. Quora
Quora
Quora is an advertising platform that is also known as a "Question and Answer" platform with a large number of users. This is a pay-per-click advertising channel that marketers easily overlook. In terms of cost, a business costing $ 25 for a bid (CPA) on Google, for Quora, the CPA bid is only $ 1. Although businesses cannot reach as many users as on search engines, you will surely get high demand customers through Quora questions with Quora Ads.
Pros:
Bring great traffic to your landing and website page.
Low bidding costs and low CPC (cost per click) too.
A perfect way to get your leads pumped in.
Cons:
Like every other ad channel, this also leads to higher bounce rates.
Leads aren't top quality. What I mean by that is that they usually lead via farm clicks and are not checked.
5. AdRoll
AdRoll's platform monitors 1.2 billion buyer profiles with trillions of intent data points and makes over 80 billion AI predictions daily. It is built to hit prospective customers with the highest likelihood of converting.
You can also make use of AdRoll to create a powerful cross-platform experience for your market folks. To lead users on the customer journey, you can run online ads, web site promotions, and email marketing campaigns. You also get a benefit of balanced coverage that requires multi-touch attribution.
Pros:
Ads personalized to show what you want.
Flexible marketing with the budget setting.
Powerful analytics to see what is working and what is not.
An enormous number of ad templates.
Cons:
To beginners, certain parts of the interface are hard to use.
Postponed ad output notifications.
Support will take some time to get back to you.
Pricing is a challenging issue; there was no fixed price when using it. Fees are dependent upon ad and email interactions.
6. Taboola
Taboola stands out from other advertising solutions, as it is a platform for native advertising. If you're unfamiliar with native ads, it's a chance for someone else to advertise content on their blog. The ad format appears as content on the hosting website.
Recently, Taboola confirmed Outbrain with a merger and created a superpower of a digital ad tool that helps you reach the right people, achieve more visibility, and deliver reporting that will allow you to customize your strategy.
Pros:
A great value on clicks — all CPCs have guests!
So many vendors use worldwide reach and relatability – Taboola.
High quality — their policies ensure that content is only fun and modest.
Cons:
Account managers — a few of them neglect the effort to build the creatives and landing pages and recommend dumping them instead of helping to make them appropriate (with general guidance of a few words).
Strict rules on content and human preferences mixed. Inconsistency sneaks into the analysis process on occasion.
Deleting error-created campaigns — with even a bin widget! It would be awesome.
7. Reddit
Reddit allows users to post on interesting niche topics, like memes, events, politics, and popular culture. When users publish a post, these platforms allow other users to share them or add to the conversation with their comments.
Both blogging and community building platforms can help for those who want to encourage discussion around niche topics or topics. By blogging, you can write posts about your company's industry topics and link them to your product or website. While many people have blogs on their websites, platforms like Reddit can be great to use if you haven't set up this feature yet – or just want to see what others in your industry are blogging about.
Pros:
Allow you to share text posts, photos, and videos about your business, brand, or personal thoughts.
Let you start conversations on a topic.
Allow linking to external websites.
Super easy to use.
Not as focused on the headlines of mainstream news.
Cons:
Longer blog posts can take time to make or write.
Being downgraded on Reddit means your post may not be visible.
Your audience may be overly relevant or limited to people on the specific platform you use.
Typically unmoderated, therefore some titles may not be suitable for work.
8. Pinterest
Pinterest has grown from a small platform to over 70 million users over the past nearly seven years. While the CEO prefers to call it a "Catalog of Ideas" like most social networking platforms, you can install your Pinterest account to be a business account. But have you ever used it to advertise your business? Let's take a look at the pros and cons of using Pinterest to advertise your company.
As for the eCommerce websites, the average selling order for Pinterest is $50. That is higher than its market-placed competitors. And did you know that 93 percent of the more than 250 million active monthly users use Pinterest to plan their purchases? That is a good way to boost your income.
Pros:
Align your brand with striking photos.
Create boards that reflect various aspects of your business.
Provide different types of a pin for you to experience.
Although Pinterest is designed to mainly show you things that fall into a particular interest collection in your profile, you can look for anything and access it.
Cons:
Pinterest has a limited audience. Whereas a large portion of the community is still female, it's changing, but what doesn't seem to change at the moment is that users still seem to be less than 45 years old.
Closed system: No one would be able to see what's on the network without an account.
Image requirements: You should have an image to pin something, and that picture needs to be nice. Not an easy deal to throw together either. Your image quality can also be a part of how well it would perform in Pinterest searches.
9. TikTok
TikTok was originally a child of ByteDance, originally a video sharing application known as Douyin in China and TikTok in other parts of the world. However, in 2018, the company acquired the more famous app, Musical.ly, transferring world users to the new integrated TikTok platform. Meanwhile, Douyin is still operating as a separate application in the host country.
In short, TikTok is a social networking application that shares short videos. As of March 2019, there were 1.1 billion Tiktok installs making it the 3rd highest downloaded app in the world. 66% of users on this platform are under 30 years old, most concentrated in the age range of 13-24, and have a higher percentage of female users.
Because this is a relatively new platform, the predictions in the future are for sure. However, at present, signs of marketing potential on TikTok are very positive. In particular, it would be worth a try if your business:
Want to reach the younger generation.
Fancy creativity, challenge, innovation.
Pros:
New, innovative, attracts a large number of users.
Video is short, highly viral.
Having a particular user audience, brands can target Gen-Z extremely effectively.
Entertaining, bring laughter.
People see TikTok as a place to reveal their "true nature," different from other social networks like Instagram or Facebook, where people only "show" what is best.
Cons:
Limited for mobile devices.
Must constantly create compelling content.
Getting involved in many "scandals" about disclosing harassed children on TikTok.
Uncommon with mature audiences, TikTok is considered a bit childish in the minds of many people.
10. YouTube
Youtube advertising is all forms of advertising displayed on Youtube channels with two main forms: Banner advertising and Video advertising. YouTube has 1.3 billion users – nearly a third of the total number of Internet users – and users watch nearly five billion videos every day. These numbers are expected to continue to increase year by year.
You might be surprised to know that the average user spends 40 minutes per session on YouTube.
In these 40 minutes, users will see many ads on YouTube – where your business is introduced. More and more people turn to the Internet for news and TV shows. Instead of running ads on traditional advertising channels (radio, television, or print), running ads on YouTube allows you to connect with potential customers through a more targeted approach. Therefore, YouTube offers a great opportunity for your message to reach millions of people, all of whom are likely to become potential customers.
Pros:
The scope of influence is huge
Targeting is easy because YouTube Ads offer many targeting options for you to choose from
You have more time to reach potential customers: Compared to other social media channels, YouTube users tend to spend more time on this platform
Low cost
You can track video parameters and measure advertising effectiveness
Cons:
Difficult to target the right customers: Although you are trying to narrow the audience for your advertising, it can still be a little difficult to accomplish this perfectly. Why? Because YouTube users make their video categories.
Unable to select the ad's context: One drawback of advertising on YouTube is that you must not choose the video for your promotional video to play before.