Whatsapp vs SMS marketing – Advantages and d …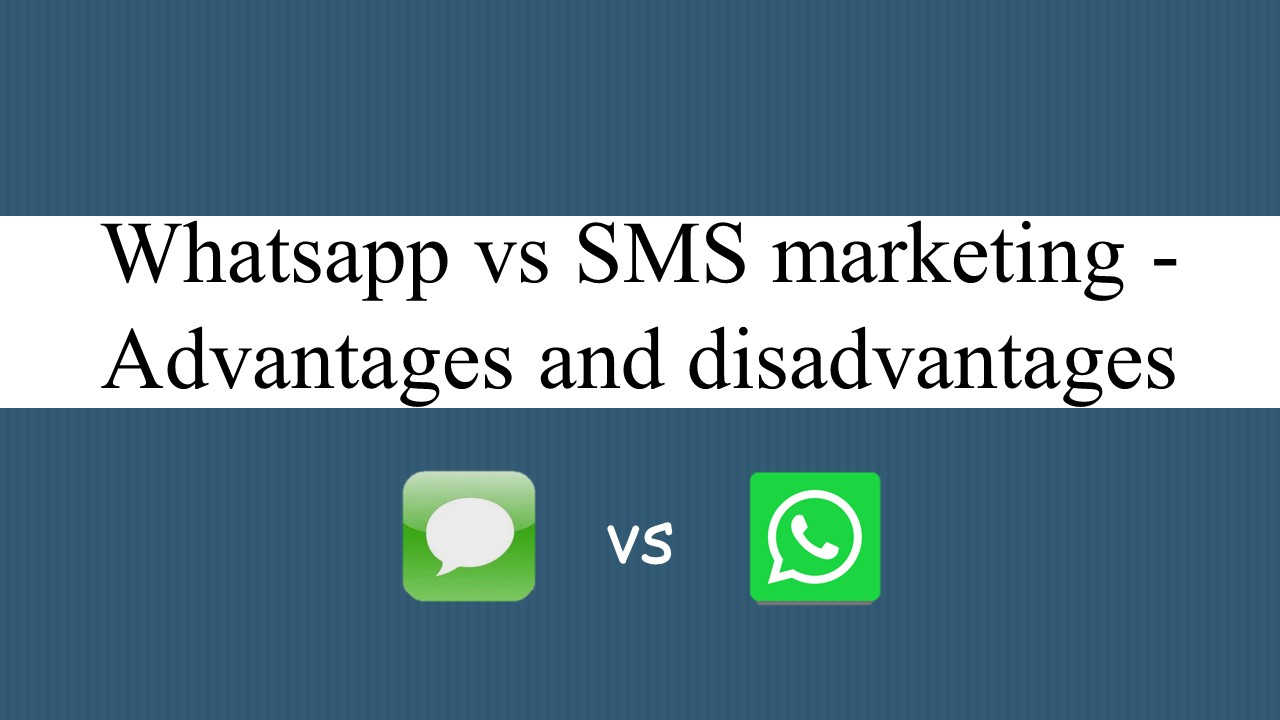 Since the invention of smartphones that incorporate cellular and mobile computing functions into one single device, almost everyone owns a smartphone these days. Hence, mobile marketing has become one the crucial marketing tactics that focused at communicating with customers through SMS, emails, Whatsapp and other mobile applications. 

However, there are so many mobile communication applications out there, from Facebook Messenger, skype to Wechat and everything in between, so which one is the most recommended to use?

Here we will put the two of the most popular mobile marketing channels which are SMS and Whatsapp in comparison, and explore each of their pros and cons.

Whatsapp business marketing

Many businesses and mobile users are switching to free messaging applications as their main communication platform nowadays.

Hence, Whatsapp marketing has gained popularity in the marketing field as it is user friendly and suits most of the smaller businesses to communicate with the employees and customers. The built in application features enable the business to create profiles on any web-enabled device, and send messages in multiple media forms. 

Advantages

Whatsapp business API and auto messages
Whatsapp business API is recommended to use especially for those larger companies that wish to communicate with hundreds of customers simultaneously. It can merge automated replies through short codes when you are unable to reply customers immediately.

Many SMS gateway providers offer API for Whatsapp with templated messages and automated response messaging for an economical price.

2. Business identity
Whatsapp allows businesses to create their own business profile in order to build a branded identity. In simpler words, your customers will see your business name every time when they receive a message from you rather than showing it from an unknown phone number. This enables business's personalization and customers to recognise you immediately.

In addition, it also provides quick, reliable delivery information which can view straight from the application. This will tell the users about the time the messages were sent, delivered and opened.

3. Mobile phone users are switching to messaging applications.
Since the smartphone launch worldwide, more and more mobile phone users are adapting to messaging applications as their main communication platform. Whatsapp has emerged to become the number 1 messaging application worldwide with over 1.5 billion active monthly users.

It is important for a business to choose on the popular communication platform where most of the customers are actively using it. The number of people using Whatsapp will only increase in the future as it is coming pre-installed in many smartphones.

Disadvantages

Single device only
Whatsapp business only allows it to be used on one device at a time only whereas a SMS gateway API software is used on multiple devices. Hence, only one device will be able to log in for one business via a web-enabled mobile phone. If users wish to use Whatsapp business on the desktop, it is a must for the mobile gadget to be connected with the internet.

2. Limited accessibility
Whatsapp is available in both the android and IOS mobile phone software. However, an active internet connection is needed in order to use the application. Some of the customers may not always have access to the internet and they will not be able to receive the messages through Whatsapp.

3. Lack of security
It is always in doubt when it comes to the security and privacy policy of Whatsapp. The messaging application does not provide enterprise data protection, which it can access and utilise users data and stores address book data, even if you are using private numbers.

This issue can be the cause of concern for most of the businesses, especially when customer's privacy is at risk.
SMS marketing

SMS messaging first appeared around the 90's and people have been using it as one of the communication platforms shortly after. It is undeniable that SMS has and continues to be the core of mobile marketing despite the revolution of mobile phones.

Advantages

Accessibility
As long as there are mobile networks, which most of the residential places on earth have equipped with at least one, people will be able to receive an SMS. Another plus point is that no internet or web-enabled devices are required to receive a SMS.

2. Customers have options (to opt in or out)
It is important for a business to give the customers the ability to choose in order to connect the business and customers without violating their privacy. The sense of trust built up among the customers at the moment when they receive the option to receive the marketing messages you will be sending or not. According to the statistics, 75% of the modern day customers are happy to receive relevant messages from businesses they have opted in.

Sales will be driven away if you send messages to customers that don't feel like hearing from you anymore. Hence, it is crucial to have the option of opting out. This won't affect the business but it can help business to learn more about customer behaviours and can always communicate with them in other forms of mobile marketing.

3. Fast response time
SMS has the highest open rate compared to many other communication channels, which is 98%. Consumers generally read text messages within the first 3 minutes they received. SMS marketing is therefore highly effective for time sensitive messages.

Companies can optimise on this through pre planned SMS schemes in order to deliver the messages out to the customers at the perfect time.

Disadvantages

Limited characters used
Every text message has a limit of 160 characters. In other words, businesses can only compose short direct messages to deliver. This can lead to a lack of creativity, causing the messages to look vague and less appealing.

2. Spam
SMS marketing is commonly used and quite saturated in this highly competitive environment. Many other businesses spamming customers with messages through the mobile marketing channels. As a result, obtaining customer's consent to opt in can be difficult these days as they may be reluctant to trust business messages anymore due to the spamming of messages from other companies.

3. Text messages is highly personal
Mobile phones are considered a highly personal everyday gadget that people possess. SMS marketing has the potential of breaching customer's privacy if they do not wish to be contacted. Therefore, it is important to get customer consent before sending them unwanted messages which will give the business a negative impact.

In conclusion, it is crucial for a company to take the specific business's needs into account before deciding which mobile marketing channel works best to market the products or services.
It is also a must to compare the services, features and prices of the mobile marketing service providers in order to fulfill your needs better.