10 Most Enlightening Digital Marketing Quotes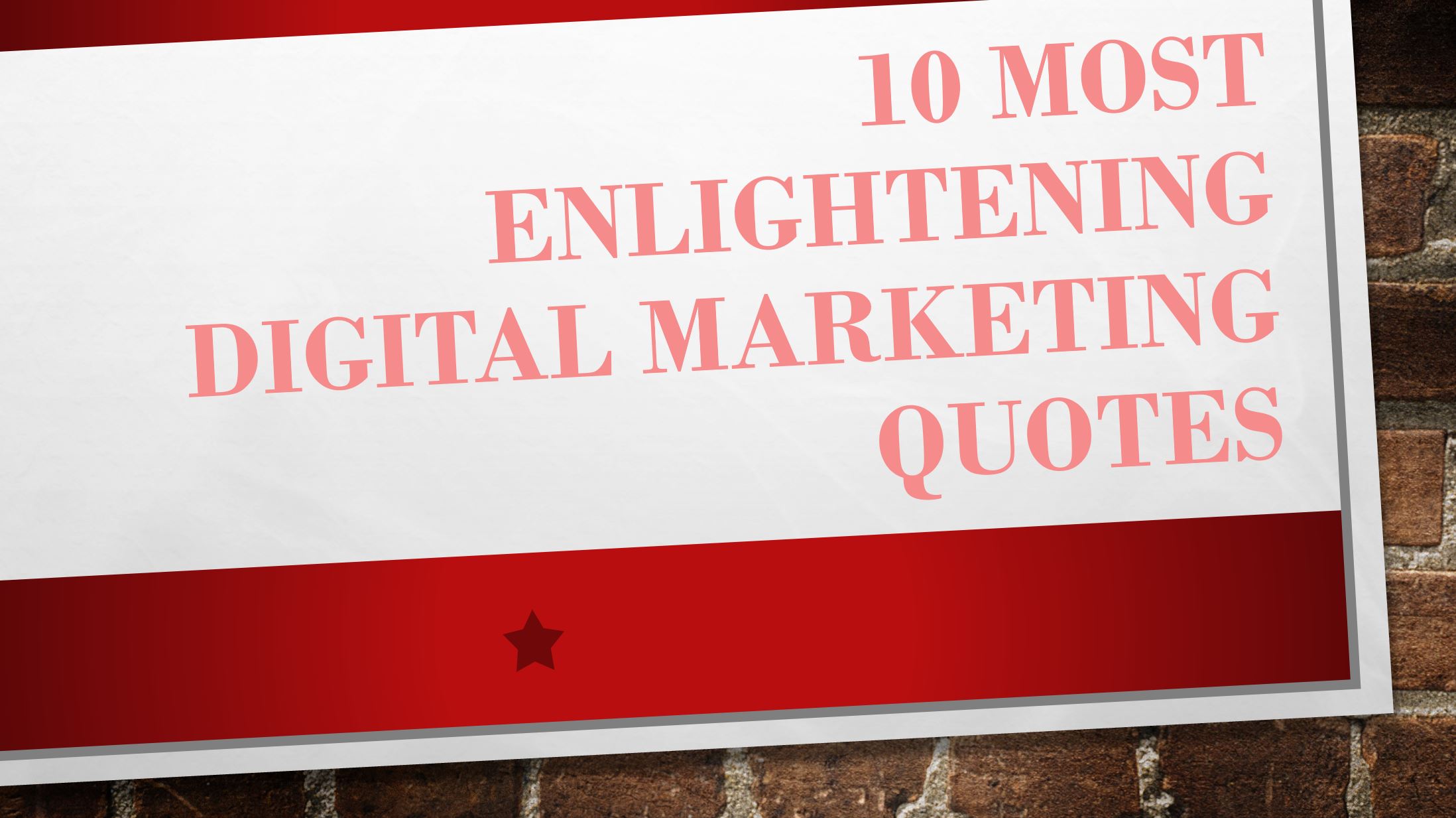 The evolution of technology has made digital marketing the most efficient way in reaching customers, especially in recent years with the broad use of internet, email, social media and more. Digital marketing can be a great challenge to the purveyors as it can be presented in all sorts of forms online. Hence, here's 10 digital marketing quotes that aid in giving inspiration and direction.
" Stop selling, start helping" by Zig Ziglar – world wide motivator
This quote shows what a consumer truly desires. Instead of engaging what might sell best, perhaps trying to think from a consumer's perspective is the utmost crucial point to engage in their interest.
2. " We need to stop interrupting what people are interested in and be what people are interested in" by Craig Davis – former chief creator officer at J.Walter Thompson
This quote implies the tactic for digital marketing to succeed. Being interesting is the key. Never create an obstacle in what people wish to engage, be engageable instead.

3. " Content builds relationships. Relationships are built on trust. Trust drives revenue" by Andrew Davis – Keynote speaker and best selling author.
Content grows relationships with the consumers and it is essential to create revenue. It would be chasing rainbow without it.

4. " The best marketing doesn't feel like marketing" by Tom Fishburne – founder of Marketoonist.
Nowadays with the advancement of technology, consumers are sharp. They are well aware of what's an ad, from sponsored posts to advertisement videos. The innovative digital marketers should figure a way to make marketing a natural conversation instead of an invasion.

5. " Authenticity, honesty and personal voice underlie much of what's successful on the Web" by Rick Levine, author of Cluetrain Manifesto.
Does your brand carry it's own voice? What are the components of the voice? Honesty and authenticity should be in it to truly connect with your consumers.

6. " People don't buy what you do, they buy what you do it " by Simon Sinek – marketing consultant, motivational speaker and best-selling author.
The question of "why" to your brand weight more than the advantage and features of the brand. If the way is captivating, it will draw consumers automatically as it drives their curiosity in knowing more.

7. " Without facts and principles, data is useless" by Bob Hoffman – speaker, writer and Type A Group partner.
Although data is required in digital marketing, however, this short phrase emphasises on the importance of content. Accurate data and content helps to buckle down on your goals as a digital marketer.

8. " Google only loves you when everyone else loves you first" by Wendy Piersall – artist, blogger and author.
Google doesn't rank your content based on how many popular keywords you used, it ranks you by the action of others. If you want to be the popular search in Google, consumers have to read, engage and share your content.

9. " Content is fire; social media is gasoline" by Jay Baer- founder of Convince & Convert, marketing expert and best-selling author.
The quote explains the relationship of content and social media. Both of them are mutualistic in the digital marketing world. Content dies off due to the lack of sharing and social media simply won't survive without content.

10. " Consumer is not a moron, she is your wife" by David Ogilvy- founder of Ogilvy & Mather, the father of advertising.
It gives the digital marketers a reminder that it is crucial to connect with the consumers and be able to understand them intimately. All the efforts will go to waste if you can't relate to them.