How to purchase from Taobao directly as a foreigne …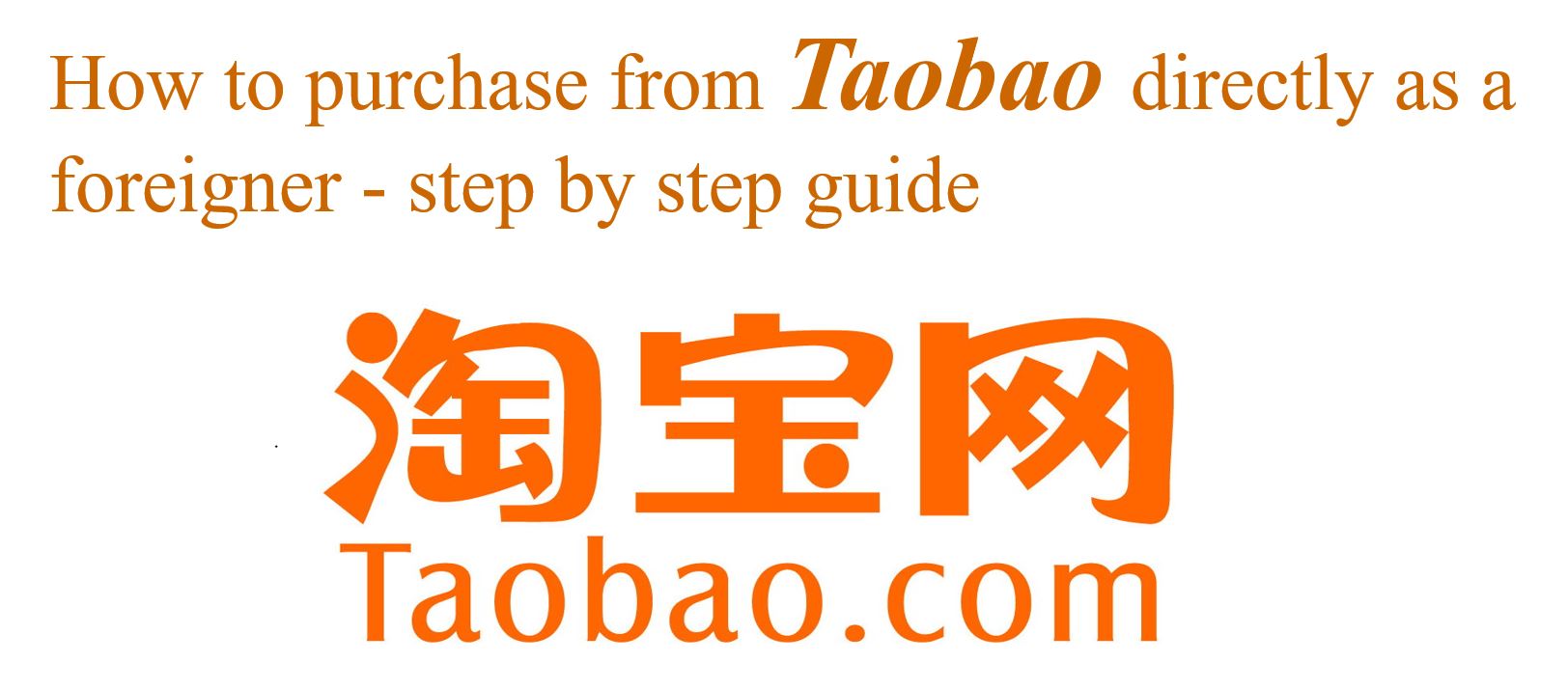 Taobao, founded by the Alibaba group in the year of 2003 is ranked the number eight most visited online shopping platform across the mainland of China. It's also the largest online marketplace with over one billion of product listings. However, the platform is created only with chinese language and it poses a challenge for foreign buyers. Hence, here's a step to step guide on how to "taobao" directly despite the language barrier.

Step 1: Things to know before account registration

What can't I buy from taobao?
There are certain things that a foreigner will not be eligible to purchase. Those items are labeled as sensitive items. Below are a few categories of items that are considered sensitive items.
| | |
| --- | --- |
| Category | Examples |
| Fresh food | Frozen fresh meat, egg, dishes, vegetables and fruits |
| Hazardous substances | Poison, knife, gun, explosives, radioactive items and other forms of weapons. |
| Animals, plants or specimens | Animal bones or parts, live animals, mahogany seeds and etc |
| Magnetic items | Compases, magnetic strips, magnets and etc |
| Replica, counterfeit or branded items | All kinds of designer branded items or replicas. |
| Battery powered items or battery | Power bank, lithium battery, power adapter and etc |
| Electronic devices | Any electrical gadgets. |
| Liquids | Flammable liquid, alcoholic beverages |
| Drugs | All forms of drugs |
Which countries do taobao ships to?
Recently, Taobao has collaborated with multiple logistic partners to enable overseas shipping in certain countries . There are two shipping services which are direct shipping and consolidation and shipping available for the following countries.

| | | |
| --- | --- | --- |
| Shipping service | Shipping method by | Supported countries |
| Taobao direct shipping | Air  | Malaysia, Singapore, Hong Kong, Australia, Taiwan, Macau |
| Taobao consolidation and shipping | Air  | Australia, United States, Canada, New Zealand, Japan, Malaysia, Singapore, Taiwan, Hong Kong and Macau |
| Taobao consolidation and shipping | Sea | Malaysia, Singapore, Hong Kong, Australia, Taiwan, Macau |
Taobao direct shipping is only recommended for small orders. Buyers will have to pay for the products + domestic shipping fee + international shipping fees in a single transaction during checkout.

However, if buyers chose Taobao consolidation and shipping, the order will be sent to the official Taobao forwarder warehouse and buyers will be charged for the first time (products fee + domestic shipping to warehouse). Then, buyers have to login to their account on Taobao to check on the relative order status. The status will change to "快件已签收" once the warehouse has received the parcel successfully and click on the appeared red option in order to proceed to the second payment (shipping fee from warehouse to recipient address). Buyers have to remember the official forwarder and contact them if there's a problem with delivering the parcel from the warehouse. More details will be mentioned below.

For other countries
Buyers that are not from the aforementioned countries can locate a forwarder to help them to purchase from Taobao, since direct purchase from Taobao it's not made available for them. Buyers should also do some research and compare reviews before choosing a Taobao forwarder.

Overcome language barrier
There are several tools that help to translate chinese to any kind of foreign language, available in the form of Web or Apps. With the translation, it can enhance the shopping experience in Taobao for foreign buyers.
It can be done via Google Chrome browser (look for google translate), Google translate application or Apple translation app (only for Apple devices).

Step 2: Register a Taobao account
First, go to the taobao webpage and click on 登录 /免费注册 as show in the below picture to register.
Next, the webpage will direct users to the registration page and you can now select english to continue the registration. It requires the personal local phone number for verification and email address too. Then, proceed to set up a personal username and password. Now, users are ready to shop when you login successfully with the registered account!
Step 3: Add shipping address
Look for "shipping address" on the left sidebar of the admin page. Now, users can add or modify the recipient address here. As many as 20 recipient addresses can be saved on Taobao, make sure all the details entered are correct!
Step 4: Select your item
To hasten the searching process, users can click on the search bar and search with product's keywords.
Other than that, users can also filter the searched product by brand, sizes, colour, type, price range etc. It is shown as the below image.
Once a product has been clicked on, Taobao will redirect users to the product page. Users can browse for reviews and product details. The selected item can also be added to cart or buy now in the product page as shown in the image below.
Step 5: Checkout
Users can either click on the shopping cart at the homepage when users are ready to proceed to payment or select "buy now" in the product's page to be redirected to the checkout page straight.
In the checkout page, select the items and click on "结算" to proceed to payment. Users can also select the shipping methods provided and the shipping address. Press "提交订单" after that to confirm the order.
Step 6: Payment
Users will be redirected to the Alipay account page once the order is confirmed. First timers have to create their own personal payment password with 6 numerical digits.
Then click on "确定" to confirm the password. Proceed to fill in the credit card details. Alipay supported VISA, MASTER and JCB. A 3% service fee will be charged to users.
Alternatively, users can go for e-banking for payment if it's available for the user's relevant country. The service fee is lower for Malaysia e-banking, which is 1.5%. Rates might vary depending on the relevant country.

Step 7: Check your order
Once the payment is successful, users can click on "已购买的宝贝" to trace the order status and details. Detailed explanation is shown as below:
Number 1: This is to connect the users to the product's seller. Users now can chat with the seller after pressing it.
Number 2: Clicking this leads to a refund/ return page. Follow the instructions given to proceed. In addition, the seller has to approve the refund to proceed, users can either chat with the seller beforehand to smoothen the process.
Number 3: This is domestic shipping insurance. If the seller has provided it for the users, users will be compensated if items are returned back to the seller.
Number 4: Users can check the order status here. If users had selected consolidation and shipping as their shipping service, the status will change to "快件已签收" indicates the official Taobao forwarder warehouse has received the items. A red colour option will appear for buyers. Click to proceed for second time shipping payment (from warehouse to recipient address).
The red color option should appear after 3-5 working days after the payment is done. Please contact customer service if it doesn't appear after the given time range.

Number 5: Users can check the order details here.
Number 6: Users can track their orders here. It will be directed to the logistic page when it's clicked on.
Number 7: This is a countdown timer for payment to be released to the seller.
Number 8: Receive confirmation. Users can press on it to confirm the parcel has been received or the Taobao system will automatically do it for users when the countdown timer has expired.

Final step: Review the purchased products!
Buyers can now help to review the product by rating it, adding comments, video or images. This is a simple guideline and hope it helps!