6 SEO Tips for 2022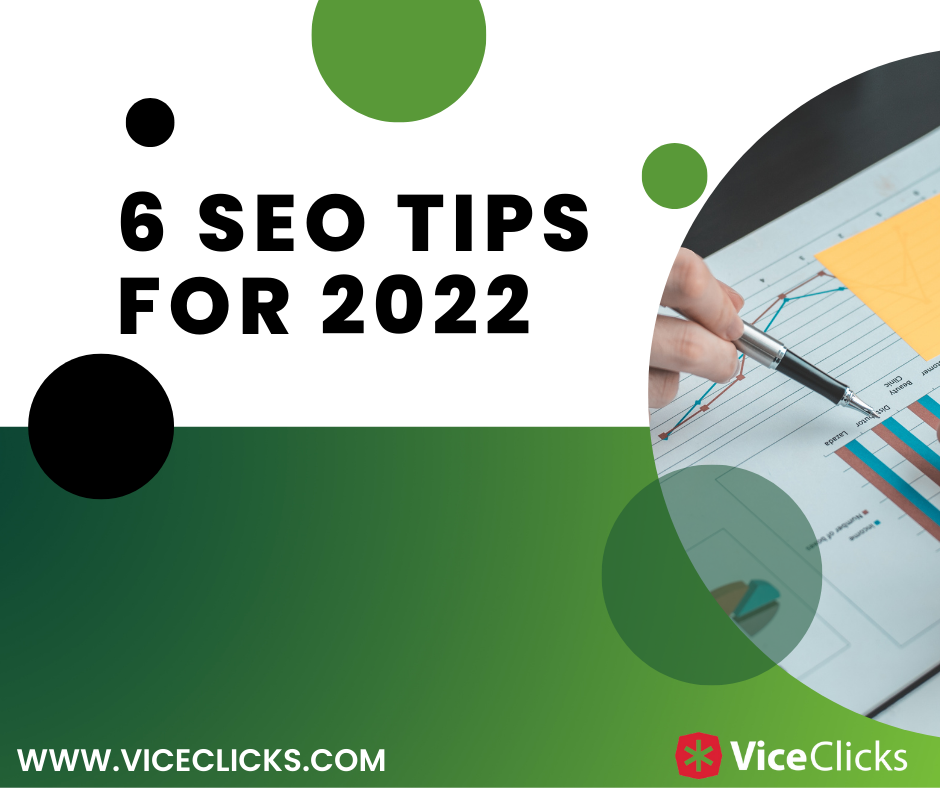 Each year brings new opportunities to re-evaluate and refine our SEO strategies in order to be more targeted and impactful to our brands and customers. It's estimated that 53% of all website traffic comes from organic search, and as a result, investing in SEO continues to be a valuable, affordable investment for brands who want to grow their market share and revenue.
As Google regularly updates their algorithm and competitive keyword landscapes are constantly changing, SEO strategy has to remain close behind. If you want to see more successful SEO in 2022 and beyond, keep these SEO tips in mind as you customize and focus your digital strategy.
1. Prioritize High-Quality Content
Although Google's algorithms are regularly updated, their north star has always remained the same: Quality. Google wants to categorize and promote webpages that provide useful, valuable and relevant information to their users.
To achieve better search results, your team needs to prioritize the quality of your webpages.If you are unsure of what quality means, Google searches for the following quality signals when ranking web pages:
Original reporting or analysis
Comprehensive and topically-rich copy
Fast-loading, interactive, and visually stable content
Relevant internal and external links
Strong relevance and satisfaction of search intent
2. Invest in your Page Experience
The quality of a webpage is not only in the topic, but in how the page works for users. With Google's latest Page Experience update, the technical performance of your webpages will be even more critical to SEO success in 2022.Google measures web pages' technical experience in these main areas:
Core Web Vitals: These metrics include Largest Contentful Paint, Cumulative Layout Shift, and First Input Delay. Strong Core Web Vitals signal a high-performing web page.
Mobile-Usability: Pages should load quickly and be responsive on mobile devices
Security: Google favors pages that use https protocols and provide a safe and secure browsing experience for users
3. Target Long-Tail and Low-Competition Keywords
If you're deploying an SEO campaign in a highly competitive market, it can take more time and authority building before you can rank on page 1, particularly for competitive keywords in your industry.
To begin generating traffic to your website in the meantime, find less competitive or long tail keywords that share a similar search intent, but are more realistic to rank.It often takes longer and longer to search, but it's worth it to start earning clicks faster. As you create your site authority, you can rank yourself for these more competitive terms over the long term.
4. Bring AI Solutions into your SEO Strategy
AI solutions can help solve some of marketing's biggest challenges: personalization, large-scale content creation, and the sense of large amounts of data.
Bringing AI into your martech stack can be essential to growing faster and outranking your competitors in less time. Some of my favorite SEO tools use AI, NLP, and machine learning technology to give webpages a competitive edge and more filing potential.
5. Improve your SEO Analytics
How can you improve your SEO if you don't have a comprehensive picture of your current keywords ranking? Google Search Console is one of the best tools available to understand which keywords drive the most traffic and where untapped traffic possibilities still exist.
You can use the tool to identify all pages on your website with high impressions but low organic traffic. This usually means that Google shows the content for a lot of researchers, but your ranking position isn't high enough to earn actual clicks.
Building backlinks to these pages or improving their quality and completeness could potentially mean an enormous inflow of traffic to your website.
6. Launch a Digital PR or Link Building Campaign
While quality content is increasingly powerful, Google's #1 ranking factor is always the number of single reference domains pointing to your website. Winning backlinks is an essential part of SEO and still one of the best, fastest ways to see high rankings within SERPs.
If you do not have an SEO, content marketing, or public relations team actively seeking out backlink opportunities, you are missing out on the chance to elevate your average positions across all of your keywords.
Look for industry-leading publications to collaborate with, demonstrate thought leadership, or get media coverage.The more authoritative and reputable your reference domains are, the more backlinks are likely to move the needle over your website's authority.
Conclusion
Although it may feel like SEO is constantly changing, the reality is, the core concepts remain the same. Websites that take the time to create quality, trustworthy, and high-performing web experiences for users are expected to succeed in 2022 and beyond.