Financial comparison: Youku Tudou vs YouTube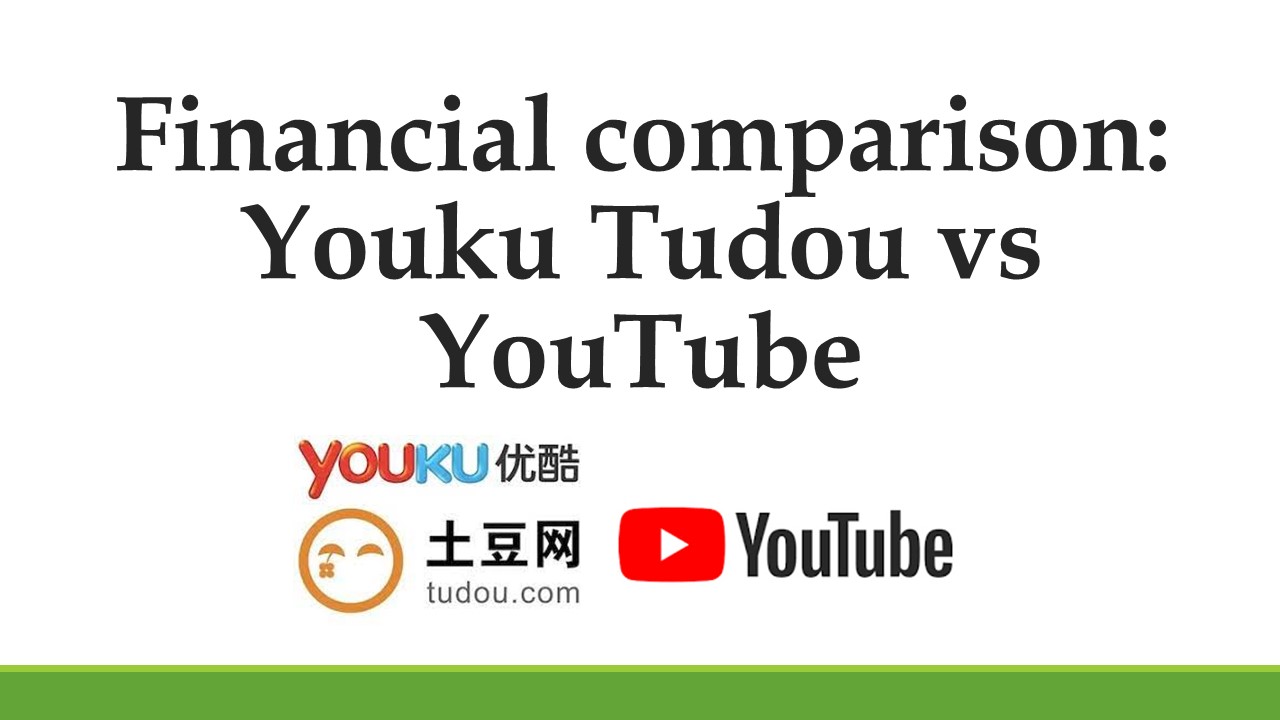 YouTube is the leading online video streaming platform worldwide, with over 2 billion users globally and more than 85 local versions abroad. It is the second most popular website in the world in August 2019.

However, the censorship of the website has continued to occur in varying degrees in many different countries around the world such as China. Initially, YouTube was blocked in China for a period of over 5 months, from October 2007 to March 2008. It was then being blocked again in March 2009 and it has remained inaccessible ever since for users in mainland China. This has effectively allowed several Chinal local video sharing portals to rise in China such as IQiyi, PPTV, Sohu, LeTv, Baidu and many more.

Youku Tudou was acquired by Alibaba in 2015 and estimated to have 374 million monthly active users as of December 2017. Youku has increased its original content spend in recent years while YouTube actively seeks for user generated content.

Business Models

YouTube was purchased by Google, the operating unit of the holding company Alphabet, Inc. It continues to seek for user generated content and maintain a growing library of videos by providing payouts of ad revenues to those video content creators. It has been able to rise its ad display revenues throughout the years via production cost and technology infrastructure cost lowering. It has generated $15.1 billion in revenue by 2019.

In 2012, China's video sharing rivals like Youku and Tudou combined their services in a 100% stock for stock merger to create the largest video website in China. The company continued its strategy to license exclusive content to attract more viewers, causing more advertisers to come for the larger online audiences despite the merger. It has been reported to have $451 million revenues for Youku Tudou in the first half of 2015.

However, Youku had failed to generate profits to the investors, reporting only one positive quarter in the first half of 2015 (before agreeing to be purchased by Chinese investments conglomerate Ali YK investment Holding Ltd, a wholly owned subsidiary of the giant Alibaba group). Youku's ADR shares on the NYSE ceased trading as it was subsumed by Alibaba.

Quest for profitability

Google did not publish exact revenue numbers for YouTube until February 2020 (as part of the Alphabet's 2019 financial report). YouTube had made $ 15.1 billion ad revenue in 2019, $8.1 billion in 2018 and $11.1 billion in 2018, according to this report. YouTube contributed nearly 10% of Alphabet's total revenue in 2019.

As Youku has lagged behind its competitors such as Baidu and Tencent, Alibaba has been increasing its investment in creating original content for Youku in order to increase its monthly users. The strategy has increased its average daily subscribers by 64% over the year 2018. It has been less willing to release specific figures that account for its monthly viewers since then.

Youku's revenue has been grouped into Alibaba's digital media and entertainment division after the initial purchase of Youku. The division saw a 20% year over year growth in revenue to $944 million in 2018. Youku seems to be defending a growth strategy that emphasizes content spend and the creation of high quality programs as the best way to grow its subscriber base.

YouTube
It seeks to become the alternative to television by creating channels of high quality entertainment created by its most popular users, including Pewdiepie and Indian music video channel T-series.YouTube has launched music streaming service, available either for free with ads or $9.99 per month and YouTube premium for original video content costing $11.99 per month to cover the additional production costs, so as to provide a more seamless and ad-free experience.

While leveraging its top creators, YouTube has also nurtured tomorrow's star content creators by giving access to state of the art production resources (referred as YouTube Spaces) to those users with at least 10,00 subscribers. There are 9 YouTube Spaces across the world with locations including Los Angeles, London, Rio de Janeiro, Paris, Berlin and Tokyo currently.
Youku Tudou

It announced a $1.6 billion plan to produce high quality user generated video in August 2015. This 3 years plan allows the chinese company to nurture 100,000 video channels by semi-professional users who have more than 1000 subscribers.

The company's cost of revenue as percentages increased by 10% points to 50% in the company's December 2018 quarter earnings report. It is due to the increased original content spend, according to the company.

Youku paid $80 million in licensing fees in the first quarter of 2015 alone. Perhaps the company has realised that owning its own content gives it more power and it can save money on licensing costs over time.

Risks?

Both platforms share the two same risks in the quest to generate higher quality user content. Firstly, competitors are working hard to poach producers, editors, executives, and content creators from YouTube and Youku Tudou.

For instance, the former head of Hulu, Jason Kilar launched a video startup Vessel promising content creators that they could make 20 times more revenue than with YouTube.
Secondly, both platforms continue to court distributors of premium television content. YouTube has secured rights to content from the National Football League, Sesame Street and Thomas the Tank Engine in January 2015. In June the same year, Youku Tudou became the exclusive online video marketing platform in China for the Marvel collection of movies and TV series from Walt Disney.Co. Although such deals help to attract more viewers, it may make it harder for the companies to break even.

Another risk YouTube has is the missing out on the chinese online video market. YouTube is not comfortable with the demands of the government of China to check for what it considers to be inappropriate or offensive videos.

Conclusion

Youku Tudou's large share of the chinese online video market allows the company to grow and gain ground on YouTube. With the focus on high quality user generated content, Youku Tudou has taken a page out YouTube's playbook to assemble more viewers. However, YouTuberemains the dominant video streaming player in the world despite not being able to compete with Youku Tudou in China. Youku Tudou is still under the watchful eye of the chinese government and its censors. The great firewall of China enforces strict rules that only approved certain videos to be uploaded and viewed, limiting it as a source of freedom in expression and objective news.