Top 5 social media platforms in China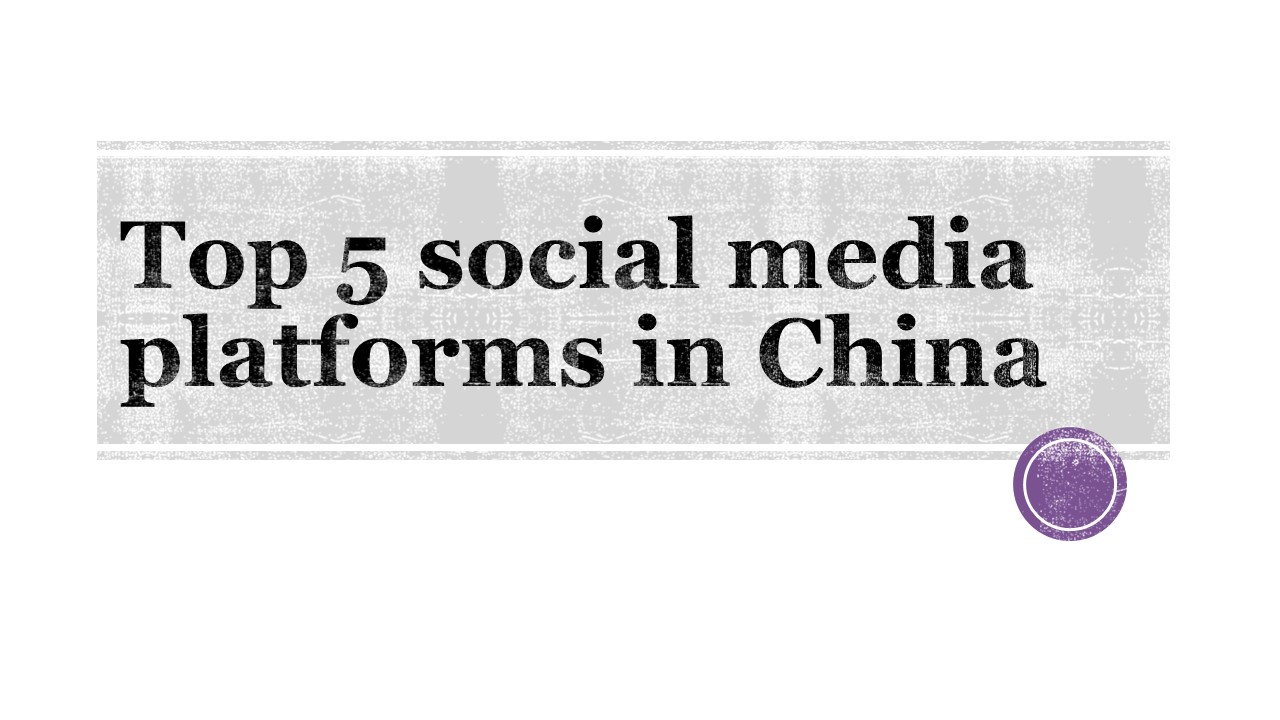 Most of the companies are looking for ways to reach new audiences through social media marketing. However, things work differently in China and it can pose a challenge to marketers that try to penetrate the China market. 

Understanding which chinese social media are popular helps to provide marketers a starting point to allow them to dive deeper into the world of chinese social media marketing.

Here's the top 5 social media platforms that are highly recommended for new marketers when they enter chinese market.

WeChat
WeChat is the most popular social media platform in China. It is a multipurpose messaging, social media app developed by Tencent which has combined social elements similar to Facebook. The app has a feature called "moments" which allow the users to see updates from their own social circle like Facebook timeline.

Besides that, there are other features which allow users to find "people nearby", "shake" and "drift bottle". The first two features allow users to see other users profiles by shaking their phone while the latter one allows users to send messages out that can be picked up by other users.

WeChat has nearly 1.2 billion users with at least 100 million registered users outside of China, which is the closest competitor to Facebook. Wechat should be the marketers top priority among the chinese social media marketing. As brands continue to battle for brand awareness within China, more companies are looking to leverage WeChat to reach their target audience.

Source: https://www.statista.com/statistics/255778/number-of-active-wechat-messenger-accounts/

2. Sina Weibo
Although Sina Weibo has lower active daily users compared to WeChat with 222 million active daily users, it is still considered a powerful presence among the chinese social media. It is also referred to as "Twitter of China" and offers many other different features including games, music, and charity. The easiest way for marketers to leverage on the platform is to set up a verified account and use the in-app feature to post links, videos, and photos that are within 140 characters.

However, it has become extremely spammy and causes many users to abandon using it. Thus, marketers should be aware of this and make sure not to spam other users. Due to the high number of fake accounts, it is not suitable for brand engagement since Sina Weibo marketing ROI is hard to calculate, but it is still recommended to maintain an active account for brand awareness. 

3. Youku/Tudou
The platform acquired by Alibaba in 2015, it is a streaming video social network that has 325 million monthly active users. Youku and Tudou are two different platforms owned by the same company.

Youku is the chinese version of YouTube and allows users to upload videos. Tudou, on the other hand, provides more movie-based content. Most movies can be found on Tudou and users are able to watch full-length movies online.

The company has an average of 200 million daily views and plans to invest heavily in new content. The tendency for chinese users to watch videos on mobile devices has allowed the company to expand rapidly over the past few years and provides marketers with an efficient platform to display video based advertisements.

4. Douban
It has 300 monthly active users and is known as a popular platform with special interest groups and communities. The most active users are intellectuals and pop culture junkies looking for movie, music, and book reviews.

It offers many options and is recommended to marketers that are looking to engage with specific communities. However, like all other social media platforms, it is advised not to spam. Marketers can treat this platform as Reddit and it will provide a better understanding of how to approach further.

Marketers have to become part of the community first before users take the marketing strategies seriously and spamming will result in account banning.

5. RenRen
It launched as a clone of Facebook in 2005, which quickly gained its popularity among the university students in China. However, it has become stagnant after its initial success. The monthly active users have dropped to below 100 million users, but it is still widely popular with high school and university students.

Marketers can consider leverage on this platform if it is to target younger consumers and potential overseas students.
FAQs

What is the most popular social media in China?

WeChat is the current most popular social media in China. Around 78% of China's population will use this site in the third quarter of 2019. It has 1.17 billion monthly active users making it the 5th most popular social media platform worldwide.
Which social media platform do Chinese use?

The local chinese use WeChat instead of Facebook since Facebook is prohibited to use in China. WeChat, hence is referred to as the "Facebook of China".
Is Instagram allowed in China?

Like Facebook, YouTube, Google, and Twitter, Instagram is also banned in China. If you try to use the above mentioned app in the country, an error message will be shown on the screen.