Introduction to ATL, BTL and TTL marketing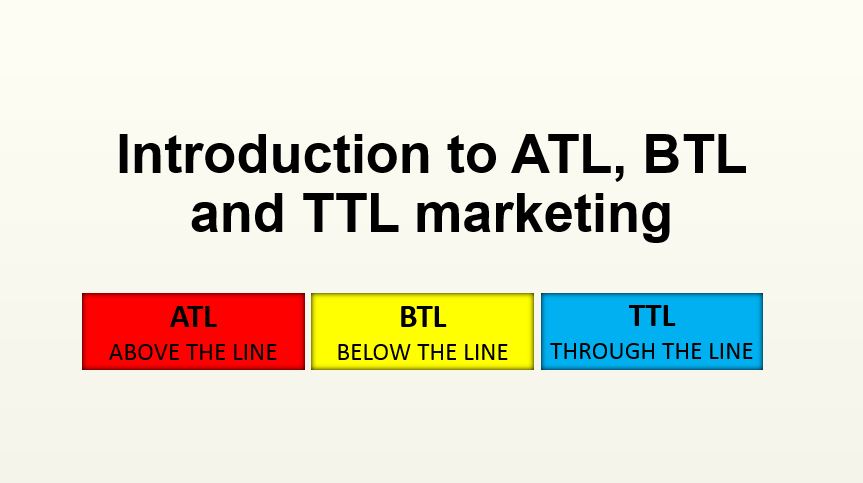 ATL Marketing

Visual example:
ATL, an abbreviation for "above the line" is a marketing strategy that deploys around a broader audience and is mainly untargeted. It is most applicable when the advertisement of a product is directed for a wider spectrum of customers.

For example, a cereal company ran its campaign on the television and the advertisement will be aired across the nation. Hence, every viewer will get the exact identical message. It uses channels such as television, radio, billboards, newspapers or magazines that reach a wider range of audience.

This marketing strategy is particularly effective for building brand awareness and goodwill. It is often hard to measure the exact impact and return on investment with this untargeted method, but the purpose of using it is to increase the brand's visibility, thus making customers more aware of the brand or product.
BTL marketing

Visual example:
BTL or also refer to " below the line" is another form of marketing that targets a specific group of potential customers with focus promotional strategies. Famous BTL strategies include utilising emails, social media and sponsorship of events.

For example, a cereal company offers vouchers for local stores along with free cereal samples to target a specific group of potential customers and encourage quick purchases or conversions.

This marketing strategy is recommended to get direct responses and conversions. Unlike ATL, it is much more focused on the return on investment, achieving user conversions and quantifying success. BTL is designed to direct customers to the product or brand through focusing directly on the user's needs and wants.
TTL marketing

TTL also stands for "through the line" is a marketing method that offers an integrated approach where both ATL and BTL marketing strategies were used to reach potential customers and generate conversions.

For example, a cereal company launches a nationwide cereal campaign on Youtube, which is shown as a video advertisement to different users depending on their interests and where they lived along with a promo code given to get a discount on purchases they made online through the cereal company's website. It combines both of other forms, ATL in terms of its broad reach while BTL in terms of its conversion focus and targeted nature.

TTL delivers both a broader reach and a focus on conversions, enhances the general awareness and increases traffic and sales simultaneously. However, it is more expensive to use in comparison with the other two marketing forms. That is why it is often used by larger or more established companies with the funds to back such a major approach.

Conclusion:
All of the three aforementioned marketing strategies have their own up and down sides. They are best suited only if factors such as types of company, interests of the company or their needs are taken into consideration. To find out which is the best for you, please take your time to consider the needs of your brand truly are, if not, always seek consultation from the marketing professionals!