[Marketing] – A Complete Guide to Xiaohongshu [ …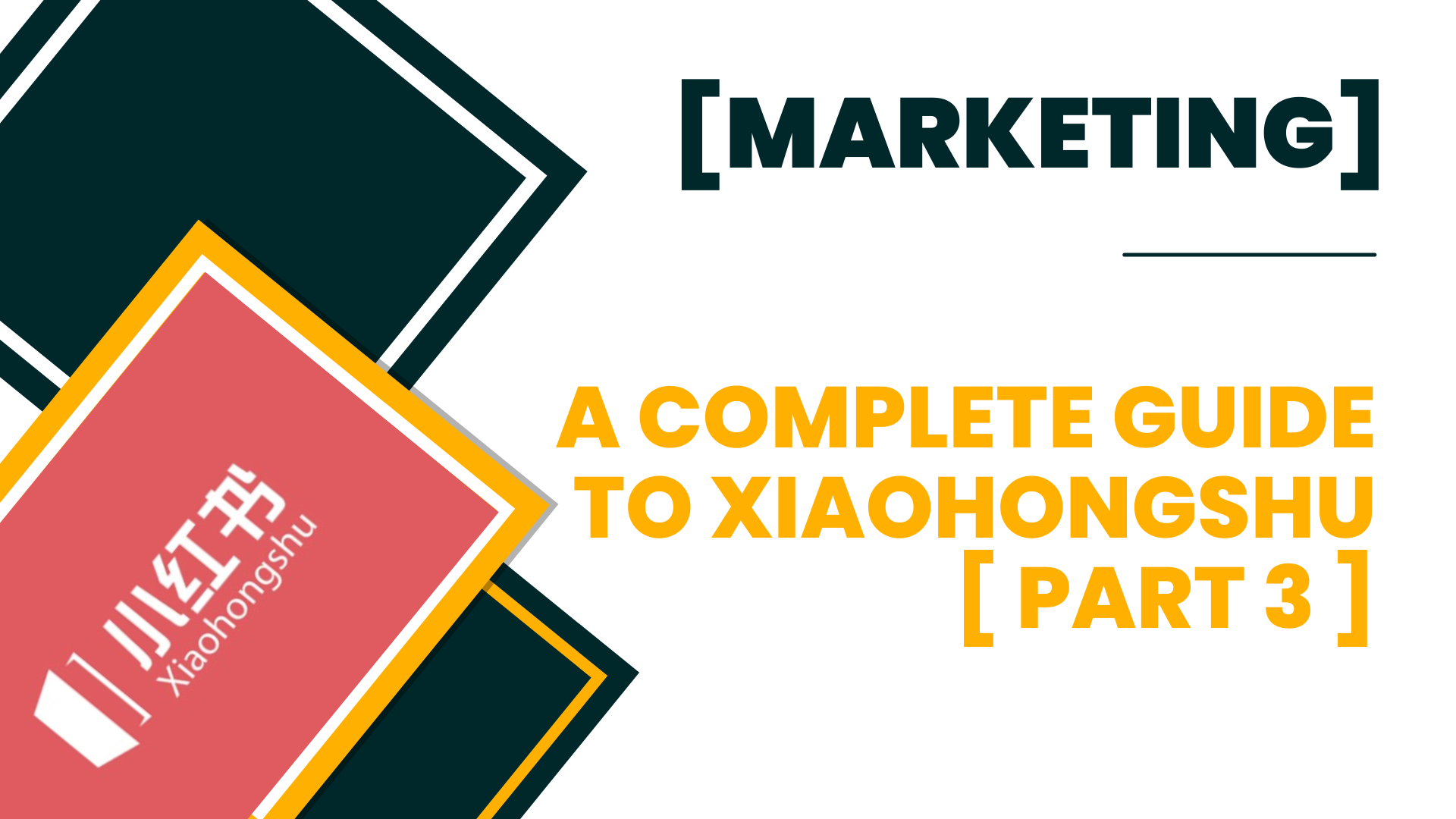 Xiaohongshu Advertising
Xiaohongshu ads work just like Instagram. It is a promoting tools to drive the best performing content, ads can further enhance the reach to achieve the best result.
However, when it comes to targeting and retargeting, Xiaohongshu's advertising system is nowhere as sophisticated as Instagram:
Xiaohongshu offers only limited level of targeting category (less than 20 interest groups!)
No way to retarget or track followers
No integration with an other platforms, data is limited
Only 3 types of ads format
Traffic is also limited since Red only has 100 million monthly active users (WeChat has 1.2 billion)
Due to the limitation, ads are only a supporting feature for brand marketing.
Types of Xiaohongshu
Newsfeed ads for personal account
These are the only ads available for personal accounts. It's called Shutiao (薯条). Personal ads are more expensive compared to brand ads. For example, CPM could be 11 USD, almost 5 times more expensive compared to brand ads. Personal ads also only enable leading traffic to a personal account. The upside is Shutiao will not display as "promotional" content, so the content could appear more native.
Newsfeed ads for brand account
Brands can place newsfeed ads on Xiaohongshu. Below is the average price for different industries (CPM/USD) as of June 2021:
Beauty 2.5
Cosmetics 2.8
Mother & baby 2.5
Fashion 1.9
F&B 2.2
This is cheaper compared to other channels, Douyin's CPM is around 3 USD while WeChat Moments Ads could be over 15 USD.
The average click-through rate on Red is strong, between 2% to 5% depending on the industry.
Newsfeed ads have relatively larger traffic compared to other types of ads on Xiaohongshu. Might be can allocating 70% of your ads budget to this.
The biggest issue with newsfeed ads is the lack of specific targeting options. Brands can only choose from less than 20 interest groups, and the groups are very general. For example, under fashion outfits, users are only separated into 3 categories: All, clothing, shoes & hats.
Xiaohongshu advertising backend, targeting option for the fashion category
Since targeting is broad, ads optimization on Xiaohongshu is all about optimizing the asset. Make sure to have an attractive title with trendy keywords, and make sure the cover picture is right.
Hunter Boots' ads click-through rate increase to 7% with the right cover picture
Keyword Search Ads
This is the only type of ad on Red that enables brands to be more specific in targeting since you can bid on keywords.
It's generally more expensive compared to newsfeed ads. Here are some cost benchmarks in different industries as of June 2021 (CPM/USD):
Beauty 13
Cosmetics 17
Mother & baby 8.7
Fashion 2.3
F&B 3
However, due to traffic limitations, it's not easy to spend with specific keywords.
Xiaohongshu Store
Xiaohongshu has a native e-commerce system. It has a few benefits:
It enables users to make a purchase without leaving the App
It supports cross-border payment and shipping, brands can operate a store with an overseas business license (with a Chinese entity as the guaranteed party, email info@walkthechat.com to learn more)
Low cost: 5% platform commission & no technical fee
Good user experience especially for Xiaohongshu live-streaming purchases
The commission on Xiaohongshu is much lower compared to major marketplaces. Comparatively, Tmall charges a 9,000 USD annual technical fee and a 6 % commission (1% for Alipay and around 5% industry-specific commission). Tmall still rules as it's the largest e-commerce marketplace in China.
Should you open a Xiaohongshu store?
Xiaohongshu store is not for everyone. Lots of large brands including Adidas, SK-II, and LANCOME, actually don't have a brand store. Instead, these brands choose to sell on Xiaohongshu via distributors. You won't need to have brand Red Store if:
The brand already has a strong distribution network
If the brand has less than 5k Xiaohongshu mentions
For other brands, the Xiaohongshu store is a cost-effective way to break into the Chinese market and expand the sales channel. You can consider opening a brand store on Xiaohongshu if:
You have a strong Xiaohongshu performance
Your brand does lots of Xiaohongshu live-streaming campaigns
You sell mostly direct-to-consumer (D2C)
You'd like to test the Chinese market with small investment and with a cross-border store
On the other hand, a foreign brand can create a cross-border Xiaohongshu store to test the Chinese market. It doesn't require a brand to have a Chinese business license, products could be shipped directly from overseas, and payment will be smoothly settled in foreign currencies.
Cosmetics and skincare brands are the best industries to launch stores in Xiaohongshu. These are often the high margin products that could easily afford a 20%-30% live-streaming commission.
Sales conversion on Xiaohongshu store
The major drawback of the Xiaohongshu store is it has little organic traffic. Most users still use Xiaohongshu as a social media and product review platform. Most users will switch to a marketplace to make an order. According to Quest Mobile, after uses close Xiaohongshu, 77.1% of the e-commerce purchase goes to Taobao.
Driving traffic to WeChat
Many of the brands works with choose to create a WeChat cross-border store as their first D2C channel in China. WeChat users are more loyal, and usually have a stronger sales conversion rate. However, Xiaohongshu blocks any 3rd party links or mention of WeChat. This need to be very creative in order to drive traffic from Xiaohongshu to WeChat:
Brand can pin a post on as the first post on the first page, sales channel in a picture is hard to be detected thus won't be blocked by the platform
Instead of writing out WeChat in the comment, this is to encourage users to send private messages for sales channel inquiries
Brand can also send WeChat coupons and launch lucky draw for the WeChat coupon to driven users to the right sales channel
Xiaohongshu Live-streaming
According to our source who worked at Xiaohongshu, 90% of Xiaohongshu sales come directly from live streaming.
Live-streaming is a very effective way to target sales conversion.
However, the size of Xiaohongshu live-streaming is small compared to other channels.
Below are 2 top-ranking live-streaming influencers on Xiaohongshu. The average sales created during these campaigns are less than 10k USD. This is a small amount compared to other channels. For example, the top Douyin live-streamer Luo Yonghao moves 1.6 million USD in one campaign. Compare on WeChat, a good WeChat article could sell over 50k USD worth of products.
Xiaohongshu live-streaming does have a much higher average order size compared to Douyin. The top influencers can have an average order size of 60 USD, while Luo Yonghao's average order size can only reach 13 USD. The best-selling products on Red live-streaming are usually premium skincare products. While Douyin live-streaming is best for cheap skincare, cosmetics, F&B and electronics. Xiaohongshu live-streaming could also effectively promote a brand. Live-streaming with one of the top fashion influencers Lu plays an important role in pushing Rouje viral. Lu did a live-streaming for Rouje after the brand launched. It's also a continuous mention of the brand. Lu posted 2 live-streaming previews, and 5 follow-up videos after 2 weeks for continuous exposure.
Conclusion
Xiaohongshu is a great platform for brand marketing and creating multiple consumer touchpoints. Xiaohongshu content can be manipulated through specific tactics just like SEO. Influencer campaigns are the most effective way to drive traffic and convert sales. We are recommend a moderate advertising investments in Xiaohongshu. E-commerce conversions are achieved by live streaming and directing traffic to other markets. Mastering Xiaohongshu marketing can be the key to quick financing in the Chinese market.