Targeted SEO: How to grow on-page traffic?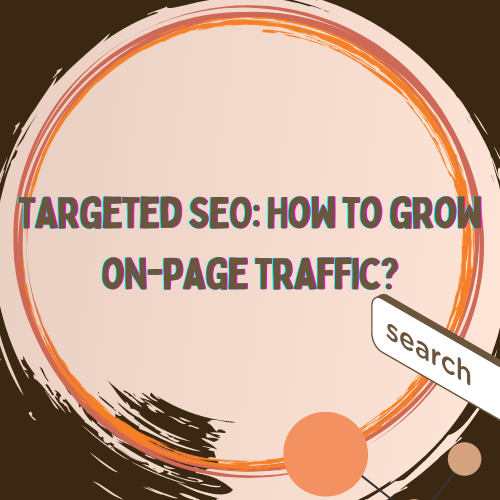 Pages need to be optimized, linkable, and have search opportunities to grow.
Strategic, targeted SEO can drive huge results to the right pages. These pages need to be optimized, linkable and most importantly, they need opportunity.
Search opportunities are defined by many factors, such as relevant audience size and competition, and this opportunity determines the possible results. Essentially, search opportunities boil down to the amount and type of organic traffic (qualified vs. unqualified) you might get from ranking for a given search term.
The steps for this process include:
Identify organic traffic opportunities.
Create a new page or optimize an existing page.
Secure valuable backlinks.
Rinse and repeat.
1. Identify organic traffic opportunities
The first, and most important step of this process is to identify organic search opportunities. Creating useful content and obtaining authoritative links are key factors in getting a good ranking in search.
Identifying search opportunities begins with competitive analysis. You need to understand how your competitors get organic traffic to understand how to win organic traffic for your website. We evaluated the home page based on the following factors:
Organic traffic per month.
Content type or format.
Volume and types of backlinks.
Percentage share of organic traffic across the domain.
Ranking keywords and the associated searcher intent.
Analyzing the top pages of competitor's websites helped us better understand search audience and content marketing strategies, and identify gaps and opportunities.
2. Create a new page or optimize an existing page
The competitive analysis found some of key terms with the potential to drive large quantities of qualified traffic to websites.
After identifying these opportunities, we audited the original website to see if there are any existing pages that can be optimized to capture these opportunities, or maybe a new page is needed as well.
To better optimize the page we recommend some important term as below
Adding the term to headers (H2s and H3s).
Expanding information on the term's topic.
Converting a static image into crawlable text.
Making organizational changes to the page to increase linkability.
These slight tweaks and optimizations were all it took to position the page to better answer the search query we were targeting.
Some other common recommendations included:
Optimizing internal linking.
Adding new formats (visual, video, audio, etc.).
Deprioritizing promotional language from informational pages.
Including more variations and long-tail versions of a key term.
Adjusting site structure and moving pages.
Link externally to trusted sources (scientific studies, governmental departments, educational institutions, etc.).
Sometimes, there will be a page on your website that may seizenew search opportunities, but is slightly missing the mark. Usually, some minor adjustments can help your page better target new terms.
3. Secure valuable backlinks
Once you have an optimized page, it's time to get some links.
Useful content and page optimizations will make your page a success, but links will solidify your page as a valuable resource and secure visibility in the search results.
We set a quarterly goal of 15 links. This goal is based on competition levels, link trends in the niche, and the knowledge of a page that was optimized for intent and citation (links).
We can use resource page link building as a strategy: the process of promoting existing resources to obtain links on third-party resource pages. Resource link building is not always an option — your page must have intrinsic value as a resource — but the utility of the calculator made this a viable option.
4. Rinse and repeat
The best part of the process listed here is that it is extensible.
In fact, by using the same process to increase another page from basically no traffic to more than 500 visits per month in a short time.
The key part is to identify the most important search opportunities available to you. Once you have identified these opportunities and the pages that can address them, you can use this process to improve their organic performance and drive a lot of relevant traffic.
If you can execute this strategy consistently across multiple pages, your entire website will improve by leaps and bounds over time.
Keep in mind that competition will determine how long it takes to see results. Even if you already have an optimized page worth ranking, you still need to make sure that you have enough links to stay competitive. It takes time and your ranking should improve because Google is beginning to recognize the authority of your links, and then traffic will start to flow.
SEO is not a short-term process, but if you are strategic and consistent, the results should have a compound impact on the organic performance of your website.