The Complete Guide to Online Video Advertising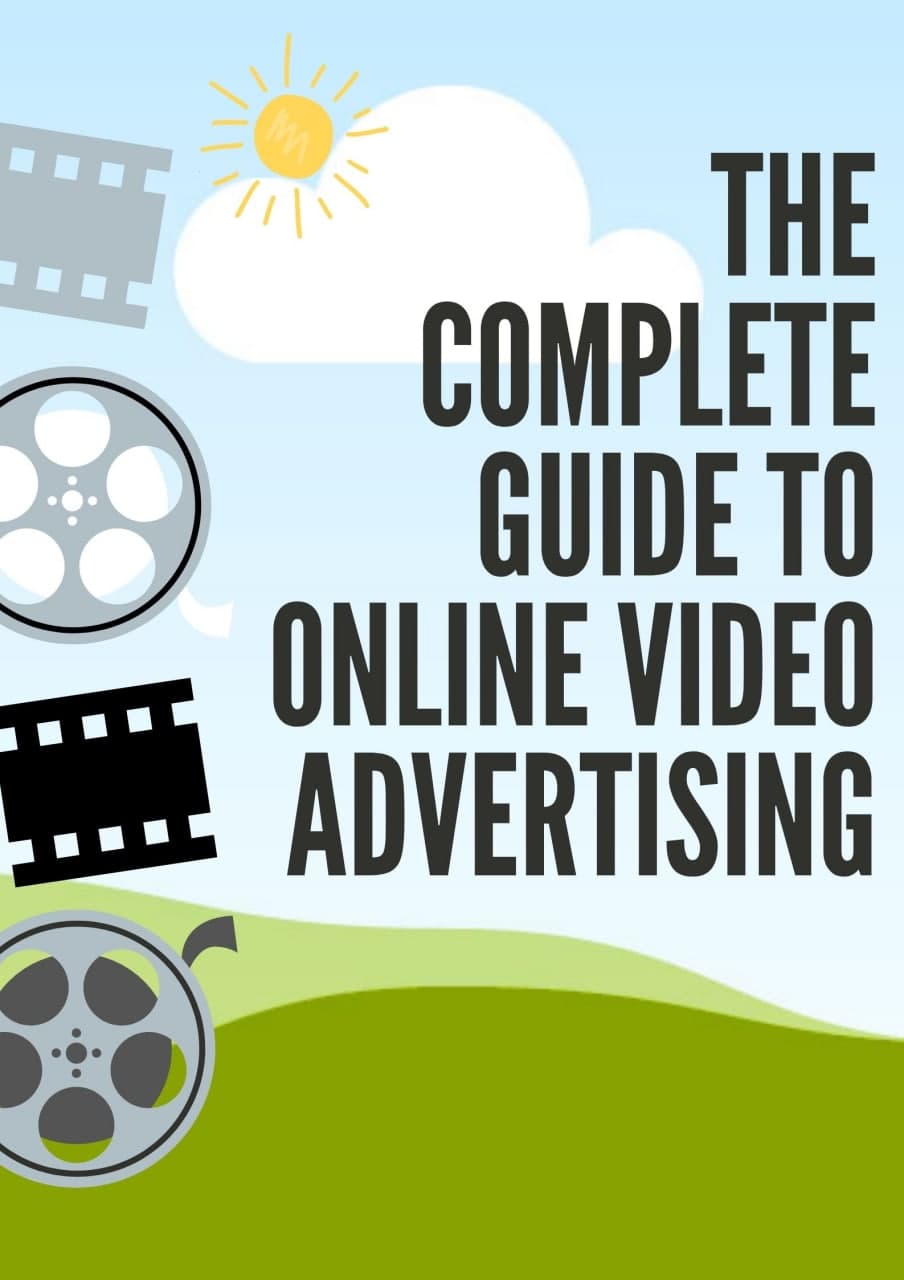 We have all heard of it before: video is king! But how can you make it the king of marketing strategies? Let's take a look at some of the hottest video advertising trends and what you need to know.
What is Video Advertising?
Video advertising is promotional content that plays before, during or after streaming content. Generally, some marketing professionals also extend the definition of video ads to display ads that include video content, such as ads that start to play when people place the mouse cursor over the video content, and native video ads promoted on digital advertising networks.
The Current State of Video Advertising
Video advertising is one of the most popular ways to reach online audiences. Experts believe video advertising will dominate the next decade, which suggests that now is an ideal time for marketing professionals to learn more about it and investigate how it could improve their reach and overall effectiveness with campaigns.
Although video marketing is becoming more and more popular, this does not guarantee the victory of marketers. The results of a study in Ireland showed that 60% of respondents believe that there are too many ads related to on-demand video platforms. In addition, 35% of people said they were frustrated with these ads because they prevented them from watching the content they wanted.
Digital Video Advertising Trends
The digital video world is not static. Experienced marketers know they must stay on top of new developments to understand what audiences want and need.
1. Video Ads Are Not as Short
YouTube was one of the first platforms to offer six-second ads. Since late 2015, however, the most popular video ad length is 30 seconds. This data suggests that when it comes to video, people are willing to pay attention for a bit longer.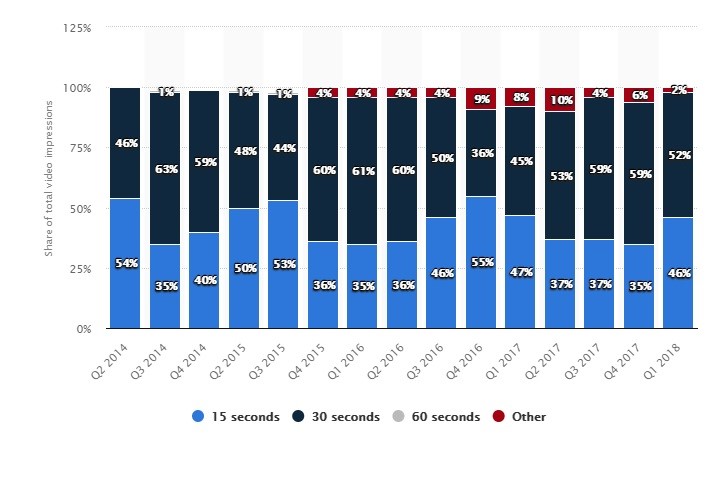 2. Mobile Users Tune in Longer
Research shows that smartphone users are more likely to watch long video ads than video ads that last only 6 seconds. After watching for 6 seconds, 72% of users will continue to participate. In addition, they are more dedicated to video than desktop computers.
However, even among mobile users, attention will drop sharply after 22 seconds. This finding suggests that marketers creating video ads for mobile devices should pay attention to length based on the type of traffic they want to attract.
3. Video Ad Spend Is Increasing
A report released in April 2019 confirmed that digital video advertising budgets have increased by 25% year-on-year. The growth in specific industries is even more pronounced. For example, in media and entertainment, video-based advertising spending has increased by 75% since 2018.
Advertisers need to keep an eye on these changes, especially when their companies show signs of budget cuts. Forgetting about video ads may cause them to lag behind their competitors.
4. Animation Is Getting More Popular
The goal of any video advertising campaign is to keep the audience interested. Companies can achieve magic by using animation in advertising. Additions like cartoons are integrated with real-life shots and motion tracking graphics to make the content vivid, relevant, and interesting.
Animation provides marketers with more options to create various types of video ads, otherwise, some of them may be difficult or impossible. As professionals continue to study audience preferences, they may realize the ways in which animation technology can make content more attractive. For example, McDonald's released an animated Christmas ad to audiences in the United Kingdom and Ireland.
What Type of Marketing KPIs Is Video Advertising Suited For?
Before consolidating video advertising methods, choose the best key performance indicators (KPIs) to track. Using KPIs, you will know if your efforts are rewarded or if adjustments are needed. The first step in optimizing a video advertising strategy is to choose a target. What do you hope to achieve by the end of the campaign?
The Google BrandLab uses four categories when choosing KPIs – awareness, consideration and action. The KPIs you choose will vary based on what you're trying to achieve. Here's an example of some of the outcomes you might want and the KPIs associated with them.
Awareness: Percentage of conversations about the brand, increase in recall or recognition, and numbers of unique views.
Traffic: Percentage of new visitors to a site and of people who visit after clicking on a link in a video.
Lead generation: Number of conversions, cost per lead on video channels versus non-video channels, and overall conversion rate.
Purchases: Number of purchases due to a link or a promo code shown in a video ad and the average amount spent.
Types of Video Ads
In-stream ads – the most familiar. One reason marketers are eager to give video ads a try is they can choose from many different variations.  These appear before, during, or after video content. YouTube relies on in-stream ads, for example. Some advertisements are interactive, encouraging a viewer to click a link or claim an offer.
Non-linear ads – play outside the main video, sometimes as an overlay. If a person clicks on one of these ads, the primary content they're watching stops. Non-linear ads don't connect to other content. If you don't want to view it, you can keep scrolling.
Rewarded ad – video advertisement geared toward gamers. You can also choose variations within the broad types, too. One possibility is an ad that plays inside a game. It incentivizes viewers with a game-related perk, such as an extra life, a health boost, or a new tool, in exchange for watching a video. You could also invest in a native auto-play ad, which lives at the end of content, such as a blog post. It works especially well if the ad supports the content a person just consumed. If someone read an article about how to choose a coffee maker, a native auto-play ad might introduce a person to a new model of that appliance.
Shoppable video ad – a relatively new option. As you might guess from the name, shoppable ads try to encourage people to practice their purchasing power and buy things rather than just browsing for them. For example, once a viewer sees a video for a product, a link appears so that they can buy the item right away. Even better, the shopping part of the experience happens directly in whatever app the person is using. TikTok, a platform particularly beloved by teens, is reportedly testing shoppable ads by making them available to selected influencers.
Video in Search – best video ads provide content that complements whatever viewers are doing online. Advertisers using it could make their ads show up below the fold in search results. The videos had to be less than 90 seconds long and contain audio
More advanced video ad types like native video give the viewer a chance to opt in and take control of the viewing experience. This format is gaining ground as it proves its effectiveness way beyond standard instream video. We're talking significantly better results for completion rates and dwell time.
Display vs. Video Advertising
Display advertising is paid advertising that appears in the digital space, whether on a website, social media network, or application. The earliest was a rectangular banner ad displayed at the top of the main content of the website. Display advertising aims to increase brand awareness and purchase intentions. However, their CTR in all formats is only 0.05%.
The well-known shortcomings of display advertising force marketers to look for alternatives. This shift has led to the use of video ads, which are great for increasing awareness, engagement, and conversion rates. In fact, 72% of people prefer videos to text when they learn about products or services. According to Forbes, the average Internet user spends 88% more time on web pages with videos than web pages without videos. In one study, the use of video on the landing page increased the conversion rate by 86%.
What About Native Video Ads?
Native ads are ads that are integrated into the form and feel of a web page, so they don't look like ads. Compared with traditional display ads, native ads use a more modest sales method, and their click-through rates are much higher. A report from eMarketer shows that is true for native video ads. Statistics predict that marketers will spend 38.7% of their budget on native video advertising in 2020, slightly higher than 38.1% in 2019.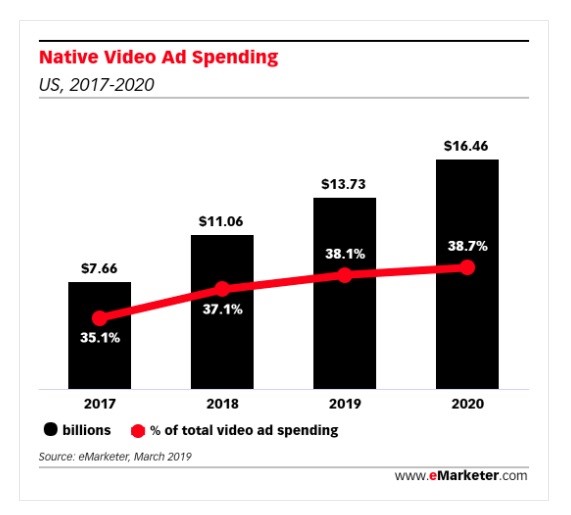 Image source: https://www.emarketer.com/content/breaking-out-video-ads-native-vs-in-stream
Advantages of Video Ads
Marketers can benefit from the many benefits associated with video advertising. Video content attracts users' attention, and when people watch it, brand awareness increases. YouTube recently announced opportunities for marketers to display video ads with "avant-garde" creator content. There are many other ways marketers can create compelling video ads to attract audiences' interest—the only limit is imagination.
In addition, video ads are shareable, thereby increasing coverage. People share their favorite videos, and most streaming platforms have built-in share buttons. Video can also convey a lot of information in a short period of time. This advantage makes video advertising an ideal choice for storytelling. You can try to use background music, camera angles, and dialogue to connect with the audience. Then, they are more likely to remember what they saw, and better yet, remember your brand.
Furthermore, you can optimize the video for mobile devices. First of all, this means that your marketing team should make sure that the video plays smoothly on mobile devices and looks great on small screens.
Why You Should Include Video Advertising in Your Marketing Mix
Using video as part of your strategy allows you to interact with audiences who ignore text and banner ads. Marketers are increasing their spending on video advertising. If you ignore this trend, you will face a competitive disadvantage.
Getting someone to click on a static display ad means giving them a sufficient impression with an attractive image or headline. On the other hand, video ads contain more elements that users may find relevant or attractive. You can use catchy songs, funny openings, or related scenes to attract the audience and urge them to watch the entire ad.
In addition, video advertising allows you to more flexibly position your product or service to solve users' pain points, provide exciting things, or help them live a more fulfilling life. Since many video ads will automatically play in the main content, you don't just want people to click on the content. They are exposed to it in the course of an activity of their choice, such as watching the latest episodes of YouTube stars or playing mobile games. Then, as long as your ads resonate with them, you can keep them interested enough to cause conversions.
How Much Should You Invest in Video Advertising
The amount of your investment in video advertising will vary based on your goals and financial resources. If you are using video advertising for the first time, please start gradually and scale-up. Consider hiring some experts to help guide your early work. Although this is by no means a requirement, these professionals will grasp the pulse of video advertising trends. In addition, they will be able to advise on the production of video content that matches your brand and helps achieve the most important KPIs you choose.
Video Advertising Effectiveness
There are several reasons for video ads. On the one hand, research has concluded that about three-quarters of consumers prefer video content to text ads. They will stay in the minds of the audience, making the brand more likely to recall. Video tells the story and helps the brand develop its voice. In addition, native advertising can seamlessly integrate with the surrounding environment.
Effective video marketing can generate millions of views and shares in a relatively short period of time, which means that you may not need to wait long to see great returns.
It is difficult to predict what exactly causes a video ad to cause a sensation among viewers. However, as these examples show, taking the time to think about this issue can bring benefits to your brand. In addition to paying attention to content such as the number of shares and views, you can also read the comments posted by people. These will give you a deeper understanding of what people like (or dislike) the video.
How to Create Video Ads
The video advertising trends listed above force you to take action and proceed with caution. Choose your main KPI, and then work with your marketing/design team or an experienced company to create ads that please your audience. Nowadays, you don't need to be a video producer or spend a lot of money to make effective videos. Here are some video creation tools that may help you. You should also consider the types of video ads available and determine the type of information, distribution platform, and audience that best suits you.