Recommeded Taobao agents of year 2021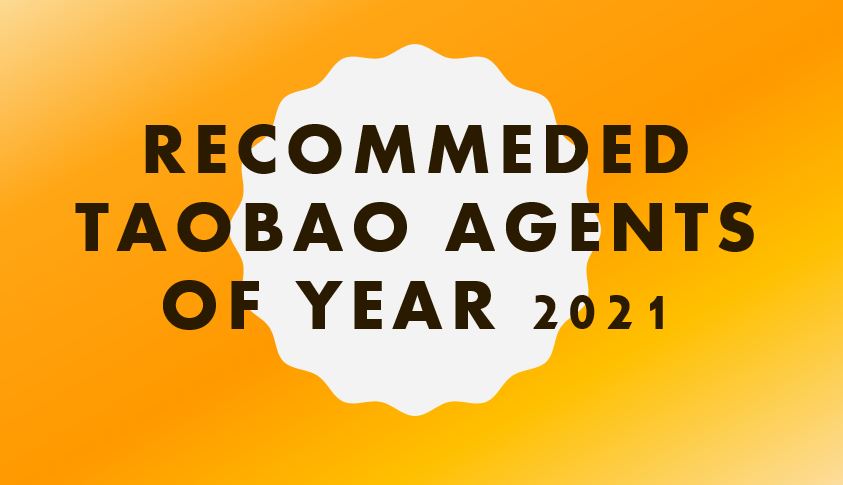 Taobao is one of the largest China online marketplace with over one billion product listings. It has broadened the platform by collaboration with the local logistic services of certain countries. This includes New Zealand, Australia, Canada, United States, Japan, Singapore and Malaysia. However, it could be a headache for users outside of the aforementioned countries or with understanding difficulty in chinese language. Hence, a Taobao agent can solve all the problems for such users! Here's the recommended top Taobao agents!

What can Taobao agents do for you?
Basically, Taobao agents act as the middle man dealing with international buyers and Taobao.
Their services includes:
Purchase desired items with provided link
Negotiate between Taobao seller and buyers
Quality check on the purchased products for buyers
After sales assistance
Enable preview of items for customers before shipment.
Parcels storage, repackaging if needed and consolidate orders.
Provides global international shipping with english customer service support
How to choose a Taobao agent?
There are 5 major components to consider when choosing a suitable Taobao agent.
Price – offered shipping rates, service fee imposed on customers, custom charge and exchange rate.
Service- types of value added service provided and logistic options.
Website- how user friendly is the webpage interface?
Reviews- online customers feedback on their shopping experience.
Customer support- type of contact methods it offered and how accessible is it?
Top recommended Taobao agents
Superbuy (Grade 9.8/10)
It is the current leading e-commerce service platform with over 1.2 million parcels sent to more than 150 countries.

| | |
| --- | --- |
| Advantages | Disadvantages |
| Zero service charge for all Taobao orders | Expensive shipping fee |
| Refundable shipping fees Excess shipping fees charged on customers will be refunded once parcels were sent out from the warehouse. Rehearsal packaging service ensures accurate billable size or weight. | Expensive currency exchange rate Roughly a 7% hidden exchange fee is imposed to customers during money top up on the website |
| Customer service Standby 24 hours, accessible, professional and friendly. | 10% expert service fee The shopping service fee is 5-8%of the item's value for the other general shopping platforms |
| Shopping services for multiple chinese websites Includes wechat, 1688, yupo, weidian | |
| User friendly web page interface and mobile app One of the very few e-commerce platforms that support mobile version. | |
CSSbuy (Grade 9.7/10)
Cssbuy is one of the most affordable shopping agents. It provides a wide range of shipping methods with inexpensive charge, suits those who are looking for a cheaper and good value alternative.

| | |
| --- | --- |
| Advantages | Disadvantages |
| Affordable shipping rates The cheapest among the e-commerce platforms with reliable courier used such as DHL, ePacket, SF-express and etc. | Longer delivery and process time Cssbuy based in Hangzhou, parcels need extra few days to be delivered as the major shipping agents were based in different states. |
| Various shipping methods available | 24 hours customer support service is not available |
| Cheap currency exchange rate Only a 3% of the item's value will be charged to customers once they top up money on the platform. It is the lowest by far! | Possible missing or wrong parcels There were many complaints online and threads discussing this issue. |
| Mobile application available Although the mobile is more buggy compared to Superbuy, it's still a plus point! | |
Basetao (Grade 9.6/10)
It is a trusted online shopping agent and has mainly operated in GuangZhou since 2015. Basetao accepts various payment methods with insurance policy to ensure the parcel's safety!

| | |
| --- | --- |
| Advantages | Disadvantages |
| Quality check and preview of items Provides free, high quality pictures of the items once the parcels reached the warehouse. | Expensive currency exchange rate It is one of the highest. 8.6% of the item's price will be charged. |
| Affordable service fee The general service fee is 5%, it can be lowered to 3 % of customers subscribe to the VIP promotion plan. | No mobile application available |
| Long and free storage days It provides 180 days parcel storage for free, the duration is twice the others! | Hard to use website interfaceFirst timers tend to spend longer time looking for information compared to other shopping service platforms. |
Ytaopal (Grade 9.6/10)
Ytaopal was created in 2016. Although it is a relatively new e-commerce service platform, it is efficient and reliable with promises of handling each customer's orders within 24 hours!
| | |
| --- | --- |
| Advantages | Disadvantages |
| Quality check and preview of items Ytaopal provides free item's photo. Extra photos and product's measurement can be provided if requested. | Limited shipping methods Only 3 options are available which are ePacket, DHL and EMS. No other cheaper shipping options provided. |
| Good customer service support Efficient and professional. Able to contact through Wechat. | High currency exchange rate 6% will be charged to customers. Not the cheapest nor the highest. |
TaobaoTrends (Grade 9.5/10)
It has over 10 years of experience in providing shopping services and thousands of satisfied customers.
| | |
| --- | --- |
| Advantages | Disadvantages |
| Quality check and preview of items Free, high quality pictures available for customers | Unsecured website The website is not under HTTPS link Customers's details are less protected. |
| Numerous shipping options with cheap shipping fee | Expensive currency exchange rate It charges 7% when the money is top up in the system. |
| Excellent customer service support Available in Wechat and live chat Efficient and fast reply | |
To conclude: Summary is shown as the table below